Kurdish political prisoner Zülküf Gezen, who was incarcerated in the Tekirdağ Prison in Turkey, took his life on Sunday, March 17. Gezen had been participating in a hunger strike along with thousands of Kurdish political prisoners demanding an end to the isolation of Kurdish people's leader Abdullah Öcalan.
Even in his death, the repression and control exerted by the Turkish state was present. The body of Zülküf Gezen was transferred from the Atatürk Airport in Istanbul to Amed (Diyarbakir) without notifying his family, and only after that were his family members informed that he would be buried that same night.
ANF News reported that the deputies of the Peoples' Democratic Party (HDP), a left pro-Kurd party, were denied access to the Amed airport and that the area was "surrounded by hundreds of police officers and armored vehicles". The police informed several HDP deputies that they would not allowed to participate in the funeral and violently barred them from entering the cemetery on Sunday night. On Monday, March 18, when HDP MPs and supporters of the party attempted to visit Gezen's grave, they were attacked by the police.
Gezen's action is part of a larger struggle being led across Kurdish territories to demand the end to the isolation imposed on Öcalan who has been imprisoned on Imrali island since 1999. Kurdish organizations have condemned the fact that Öcalan has not been allowed to meet his lawyer since July 27, 2011, and the last time he met with a family member was on September 12, 2016. Since then, there has been no news regarding the condition or health of the leader.
The latest campaign to seek an end to Öcalan's isolation and to demand that the Turkish state respect its own laws and its obligations to international humanitarian law was sparked by Leyla Güven, a member of parliament from the HDP and co-chair of the Democratic Society Congress.
Güven was arrested on January 22, 2018, for criticizing the Turkish army's invasion of Afrin in northern Syria, as well as for other comments made by the MP regarding Kurdistan. Güven, who now faces 31 years and six months of imprisonment, began an indefinite hunger strike on November 7, 2018.
During a court hearing of her case several months ago, Leyla Güven stated her reasons for embarking on the hunger strike: "Today, the politics of isolation on Mr Öcalan is not imposed on him alone, but on a people in his person. Isolation is a crime against humanity. I am a member of this people. I am starting an indefinite hunger strike to protest the isolation of Mr Öcalan. I will not submit any defence to the court from now on. I will continue my protest until the judiciary ends its unlawful decisions and this politics of isolation is terminated. If need be, I will turn this protest into death fast."
On March 2, the Kurdish MP received a visit from Nora Cortiñas who is one of the founders of the Argentine human rights organization Mothers of the Plaza de Mayo. Cortiñas travelled to Turkey to participate in a Forum in Defense of Life and in Support of Leyla organized by the Free Women's Movement.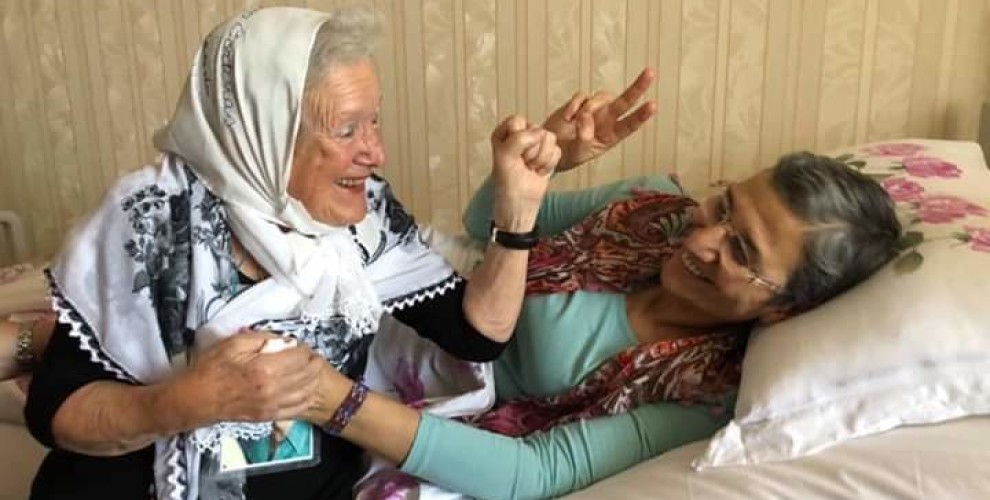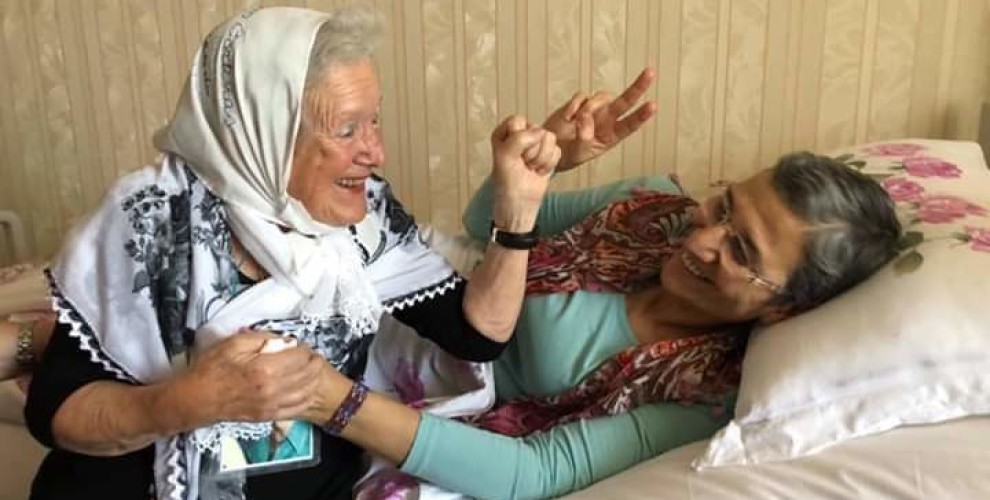 During her visit, the renowned human rights activist echoed the petitions of Güven and the Kurdish movement demanding the end of Öcalan's isolation and also expressed her worry over the situation of the Kurdish activists and political prisoners who are on hunger strikes "The [Turkish] government should respond to the hunger strike that Dersim, Leyla and our other friends have begun. If they do not, there could be a serious tragedy. The government should assume responsibility before this happens."
On January 25, 2019, after a year of pre-trial detention, Güven was released though she vowed to continue her hunger strike until her demands were met. Now, 132 days later, Güven's health is at risk and the Turkish government has yet to respond. However, resistance continues to grow, on March 1 more than 5,000 people both inside and outside Turkish prisons joined Güven's hunger strike.
Now, many are concerned over the conditions of Nasır Yağız who today enters his 119th day on hunger strike in Hewler, southern Kurdistan. According to ANF News, Yağız's health has gravely deteriorated with him suffering intense headaches, as well of the loss of hearing and sight. On February 26, he was hospitalized but refused treatment and continued with his protest action. Yağız affirmed his commitment to the struggle, "Whatever the cost, victory will come."