The police violently attacked protesters outside the 4th district police station of the Washington DC Metropolitan Police Department, where demonstrations were held for a second consecutive night on Thursday. The protests were in response to the death of Karon Hylton-Brown last week during a police chase.
According to reports, witnesses saw the accused police officers chasing 20-year-old Hylton-Brown for riding his moped without a helmet last Friday, October 23. It was during the chase that Hylton-Brown was struck by a passing car. The car crash eventually led to his death at a hospital due to the injuries sustained, three days later. Testimonies by witnesses were corroborated after bodycam footage from the officers was released to the public on Thursday, after considerable public outrage.
Washington DC has a policy of preventing the police from chasing vehicles over traffic violations, which includes violations like riding a motorcycle without a helmet. Hylton-Brown's family have alleged that the chase was what precipitated the crash that eventually killed him and have demanded they be brought to justice.
"The things that happened didn't have to happen. You know, he was targeted," said Karon's mother, Karen Hylton, as she demanded to speak to the mayor, Muriel Bowser. The police are also yet to give another reason for the chase, since no contraband was found on the victim nor was any crime being reported in the area.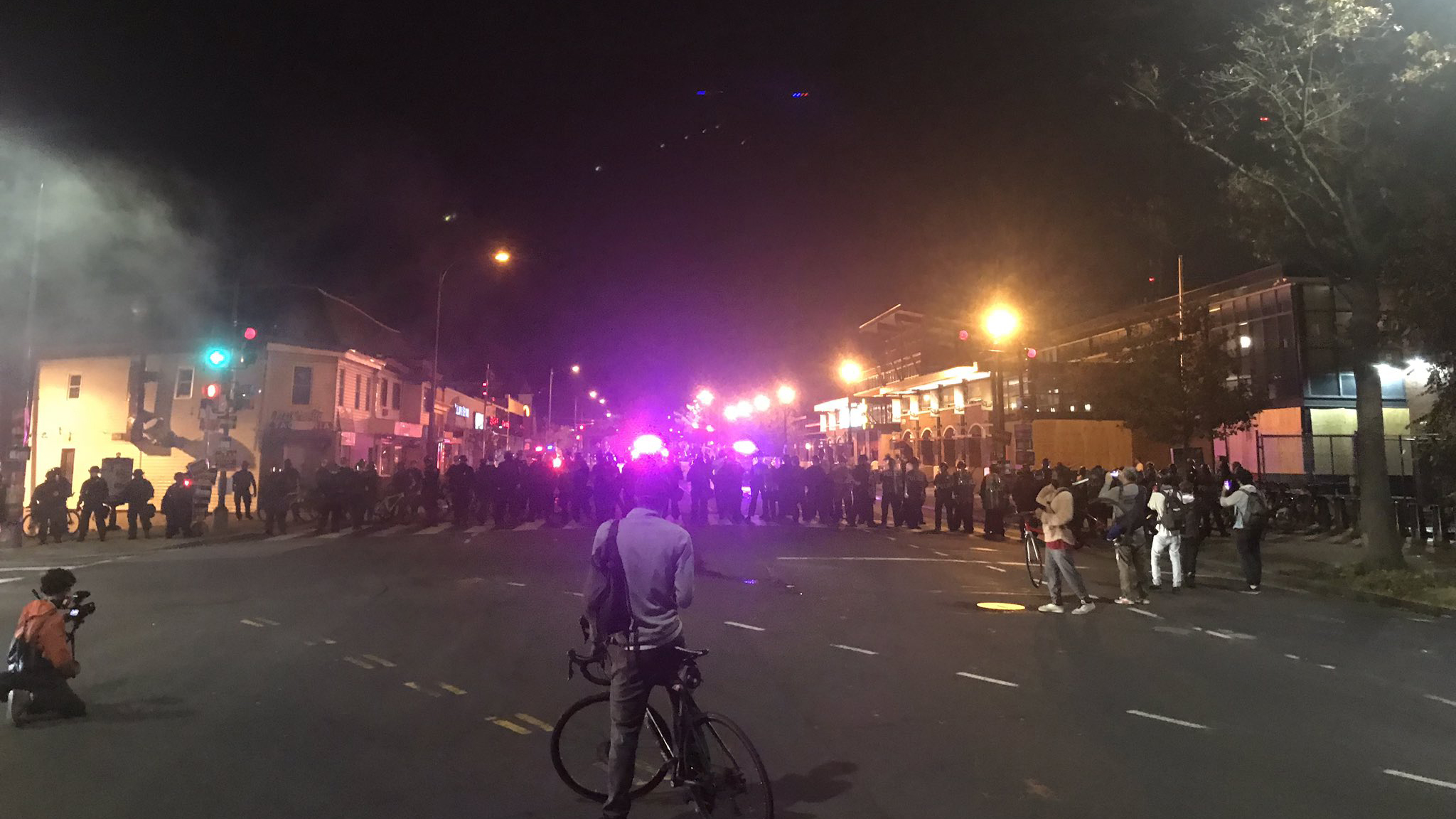 Family members have been leading demonstrations demanding justice at the 4th district police station for the past two nights. On Thursday night, the police made use of tear gas, pepper spray, flash bangs and even rubber bullets to forcibly clear the demonstrations outside the police station, claiming "riotous behavior" based on a broken window. The forcible clearing, according to Black Lives Matter DC, led to over 200 protesters getting injured.
.@DCPoliceDept is claiming a handful of Cops have been injured. Over 200 protesters was injured by @ChiefNewsham Terror gang. MPD received privileged treatment. Protestors had Street Medics assisting them because #WeKeepUsSafe It was ONE arrest made at #KaronHylton protest. pic.twitter.com/x3AIqakM7v

— Black Lives Matter DC (@DMVBlackLives) October 29, 2020
Both the parents of Hylton-Brown, Karen Hylton and Charles Brown, were, according to reports from the ground, pepper sprayed by the police as well. Police cleared and blocked the entire George Avenue that led to the police station.
In case you missed it, this is @DCPoliceDept macing #KaronHylton's mother (the first of several – his father as well) at the protest. Both has identified themselves as his parents. The police did it intentionally. This is @MayorBowser's DC.

Testing new munitions for next week. https://t.co/Ytkur6wm5r

— Black Lives Matter DC (@DMVBlackLives) October 29, 2020