On March 8, Monday, feminist organizations and women's groups across Europe hit the streets to mark International Women's Day. The raging pandemic, job loss and other distress due to the lockdown, rise in femicide, misogyny, conservative laws fueled by the far-right has worsened the situation of many women over the last year. Braving all odds, women across Europe made their mark by raising the flags of women's emancipation and liberation on March 8 on the streets and workplaces. 
On Monday, in Poland, women under the leadership of National Women's Strike (Strajk Kobiet) demonstrated across the country raising the slogan 'Women's Day Without Compromise,' protesting the misogynist tyranny of the conservative Law and Justice (PiS) party led government. Groups including Strajk Kobiet and the Polish Left have been fighting the ban on abortions imposed by the constitutional court since last  year. 
The leftist party in Poland, Razem, said that instead of flowers, polish women need rights. Razem said that Poland has almost a total ban on abortion and women are forced to give birth to even severely impaired fetuses. "Every year in Poland, between 400 and 500 women die as a result of domestic violence, whereas 94 percent raped or molested people do not report the case to law enforcement. Only 28 percent of Parliament MPs are women in Poland, while women constitute 52 percent of its total population," added Razem.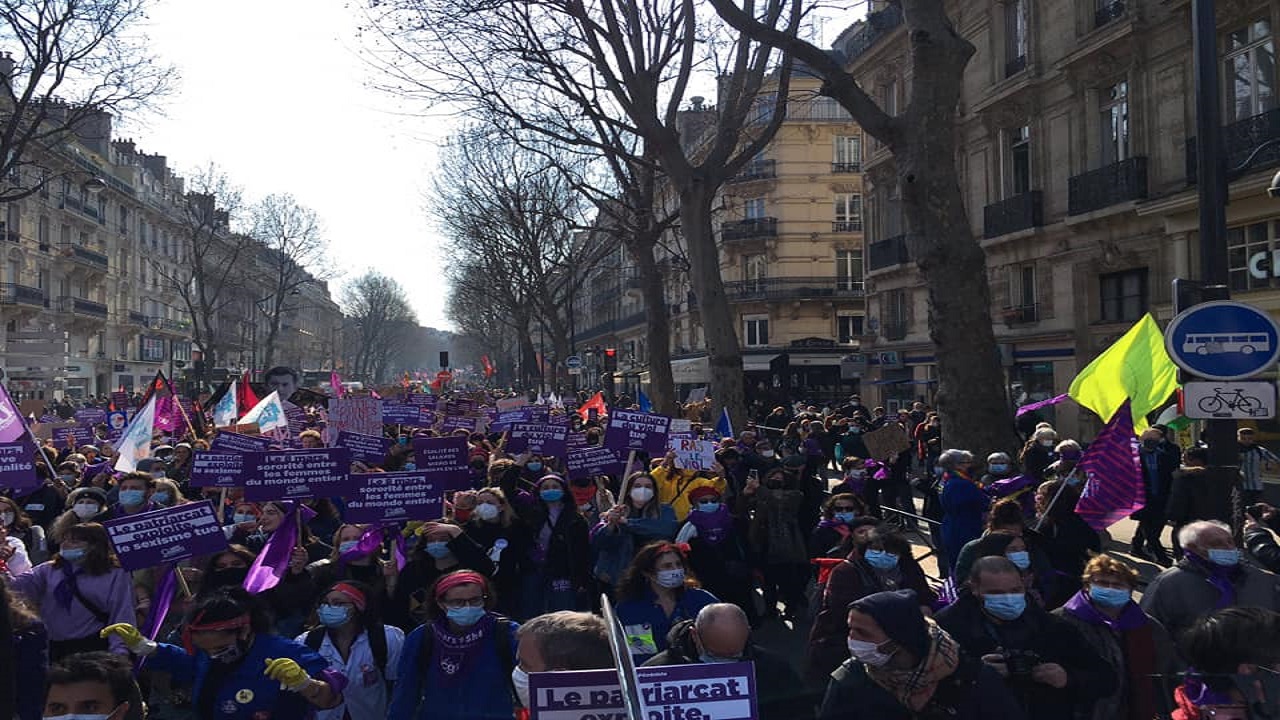 In France, women's rights groups including Greve Feministe and major trade unions organized more than 150 mobilizations across the country to mark the occasion. They protested the gender pay gap that still exist in the country and the spike in violence against women. 
Greve Feministe said "on March 8, we will be on strike with women around the world to refuse to pay the price of the pandemic crisis with our work, our wages, our bodies. The confinements have highlighted that women are essential to the functioning of society while they remain permanently invisible. Women, and increasingly migrant women, make up the majority of those in care, health, education and cleaning jobs…[T]hey are underpaid, and get little or no recognition…Despite the beautiful promises, no substantive negotiations have taken place in this direction!"
In Belgium, women's right's groups organized mobilizations and renamed some of the streets in La Louvière to names of women who fought for their rights. Organizations have also reiterated the demand for an hourly minimum wage of 14 Euros (16.66 USD) per hour.
In Portugal women's rights groups including the Democratic Women's Movement (MDM) and the March 8 Network organized demonstrations across Portugal and online events on March 7 and 8.
Mobilizations and campaigns also took place in the cities of Spain, Switzerland among others and online events and campaigns were also organized by others such as Women's Strike Assembly in the UK and Die Linke in Germany.