On Thursday, June 3, Greek trade unions organized massive mobilizations in Athens and other cities demanding the withdrawal of an anti-worker labor law proposed by the conservative New Democracy (ND)-led government. The call for the mobilization was given by trade unions, including All Workers Militant Front (PAME), and was supported by the Communist Party of Greece (KKE) and other organizations. Protests have been taking place in Greece since May when labor minister Kostis Hatzidakis outlined the bill which allows for employees to work up to 10 hours and an increase in overtime work, permits work on Sunday and affects union activities, including the right to strike. On Thursday, major mobilizations took place in the cities of Thessaloniki, Patras, Piraeus, Eleusis, Corfu, Mytilene, Koropi, Ioannina etc. Trade unions and progressive sections have also given a call for national strike on June 10.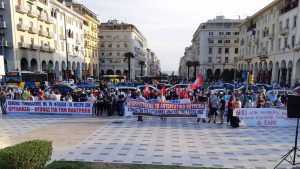 According to reports, the new labor bill was submitted to the Greek parliament on June 4 and the discussion in the relevant committees is likely to start on June 8. A total of four meetings will follow in the committees, and the voting on the bill in the plenary session of the parliament is expected to take place on June 17. Towards the mobilization on Thursday, All Workers Militant Front (PAME) demanded that the government withdraw the labor bill and instead increase salaries, pensions, and social benefits of the workers. PAME also called on the government to institute a 35-hour work week. "The bill that expresses capitalist barbarism has not been corrected, it has not been improved! Withdraw it now!" said PAME.
While addressing the mobilization in Athens, on Thursday, Communist Party of Greece (KKE) general secretary Dimitris Koutsoumpas said that "The legislative anti-labor bill of the ND government has not been improved. It should not even be submitted to parliament. It must be withdrawn here and now. We are here today and we will be on the streets in protest to defend the fixed eight-hour daily work time and against the settlement that takes us back to the Middle Ages.
"The struggle may be difficult, but the final winner will be the working people themselves," he added.