To mark the International Day for the Elimination of Racial Discrimination on March 21, progressive and anti-racist groups in Belgium—including Platform/e 21-03, Workers' Party of Belgium (PTB-PVDA), student-youth groups such as COMAC and RedFox, trade unions, refugee rights groups, and women's rights groups—organized demonstrations and campaigns across the country on Sunday, March 19. Mobilizations took place in cities including Brussels, Antwerp, Ghent, Charleroi, Ostend, La Louvière, Liege, Leuven, and Namur. Marchers demanded an end to discrimination and police violence, and that refugees in the country be treated with dignity.
The Workers' Party of Belgium (PTB-PVDA) stated on Sunday, "There is no such thing as second-class citizens. Everyone deserves a decent home and a good job. That's the message [of] thousands of citizens, workers, young people, families, union workers,.. today all over the country together with the Platform/e 21/03. A message against discrimination. To all those who run our buses and trains, take care of our children and parents, build our homes, clean, run the cash registers, deliver meals, build our cars… and who are still confronted with racism today."
"Both in the housing market and in the labor market, many of them are struggling because they have different origins or darker skin tones. We advocate measures such as practical tests against discrimination, but also better social inspection Together we will stop racism," the party added.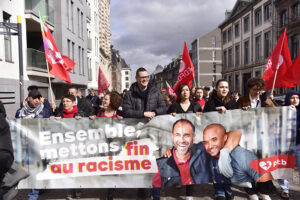 March 21 has been observed as the International Day for the Elimination of Racial Discrimination since 1966. The United Nations decided to commemorate the day after police shot at a peaceful anti-apartheid demonstration in Sharpeville, South Africa, on March 21, 1960, killing 69 people and injuring 180.
On the mobilization on Sunday, Platform/e 21-03 stated that "racism and discrimination divide our society. And what divides us makes us weaker. After all, racism and discrimination undermine the empathy and solidarity that allow us to stand together against oppression and for justice. We are fighting against discrimination precisely because we believe that rights for all and equal treatment should be the norm. The more quality jobs, homes, schools and neighborhoods there are for everyone, the less [there is chance of] discrimination. The more equal rights, for example equal pay for equal work, the less likely it is to see structural discrimination and exploitation."
On March 21, to mark day, student group COMAC invoked the memory of Congolese leader Patrice Lumumba, who was assassinated at the behest of the Belgian elite.