In a closely contested presidential race in Brazil, the left-wing Workers' Party candidate Fernando Haddad has made further gains on his right-wing opponent Jair Bolsonaro. According to latest polls, Bolsonaro's support is down by three percentage points, now polling at 56%, while Haddad has gained by the same margin, up from 41% to 44%. Although the gap between the two candidates is closing, it still stands at a significant 12%.
Optimistic about the new numbers, Haddad in a speech addressing a rally of 20,000 supporters in São Paulo said, "While Bolsonaro's victory was supposed to be 'certain,' today it is just 'likely,' tomorrow it will be 'possible,' and on Sunday he will find out he lost."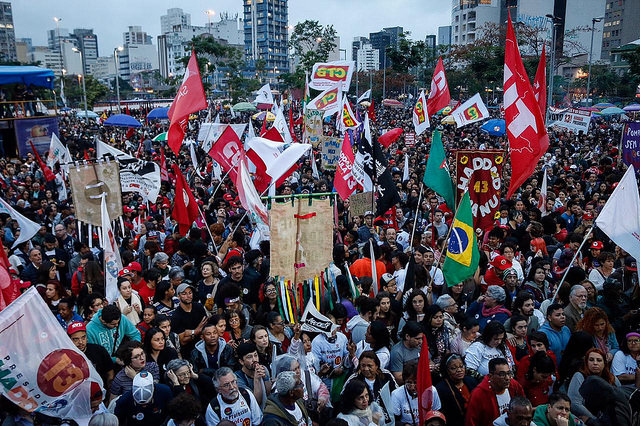 Haddad and his running mate Manuela D'Ávila have been relentlessly campaigning in a bid to explain to the voters what a Bolsonaro presidency could mean for the nation. While it is recognised that the primary reason behind Bolsonaro's popularity is a need for change being felt by the masses, what is also acknowledged is that most of the people supporting the right-wing candidate are ignoring his more extreme views in the hopes that a "strongman" like him might successfully tackle crime and corruption.
It is this expectation which Haddad needs to expose, drawing from the experience of rise of similar strongmen in their respective nations, particularly Rodrigo Duterte in Philippines and Donald Trump in United States.
Brazil is already witnessing a rise in attacks on pro-democratic and anti-fascist groups, individuals, and spaces. As the second round of the elections approaches, there have been an increasing number of raids in public universities across the nation authorised by electoral court authorities. Police officers have been questioning and intimidating both students and teachers, and taking down pro-democracy statements and posters. Brasil de Fato reported that judges have been arguing that these orders are to seize materials being used to campaign for Haddad in educational institutes, but no mention of the candidates was actually seen in the seized items.
Today, just one day before the elections, Jaime Amorim, a member of the national board of the Landless Workers Movement (MST) was arrested by the military police in downtown Caruaru, Pernambuco, while he was handing out Brasil de Fato newspapers. He was only released hours later, in the afternoon. Witnesses say supporters of Brazil's presidential candidate Jair Bolsonaro threatened and attacked the activists who were handing out copies of the Brasil de Fato special edition on the elections.
There have been multiple such incidents, with regular classes being disrupted on the pretext that professors are "campaigning." A public lecture titled "Crushing Fascism" was stopped in Greater Dourados University following a judge's order. In a similar incident, men dressed as members of the Regional Electoral Court (TRE) interrupted a class in the State University of Paraíba to question the professor.
The electoral court also stopped the circulation of a special elections' edition of Brasil de Fato. The judge which issued the warrant for the search and seize operation said this was done because the newspaper published "smearing stories against candidate Jair Bolsonaro."
A disturbingly high number of politically motivated attacks linked to Bolsonaro supporters have also been reported. Data collected from a survey which began a week before the first round of elections on October 7 shows that 133 attacks have been carried out till now, that is, in the span of less than a month. Of these, there are eight incidents of deaths, 21 of attackers using weapons, 42 assaults, and 17 of Nazi graffiti. "Six of the victims were transgender people and nine attacks targeted journalists," reported Brasil de Fato.
Challenging Bolsonaro's growing influence and hate-filled rhetoric, a petition titled "International Declaration Against Fascism" is being circulated online, and is set to cross its target of 35,000 signatures.
It declares, "In the second round of the election, the people of Brazil will be making a choice of paramount importance, between liberty and pluralism and retrograde authoritarianism, with a lasting impact, not only for Brazil but also for Latin America, the Caribbean and the rest of the world.
We call on Brazilians to reflect on the gravity of this pivotal moment in history.
There can be no neutrality in the choice between democracy and fascism!"