In February, three major Latin American countries, Argentina, Colombia and Mexico, witnessed mobilizations against femicides and gender-based crimes. On February 1, hundreds gathered in Buenos Aires, Jujuy and Tucuman, demanding public policies to eradicate sexist violence. On February 2, the Timbian community in Cauca, Colombia marched to demand justice for a 20-year-old college student and punishment for her murderers. On the same day, more than 5,000 women in Mexico hit the streets against femicides and kidnapping attempts.
According to data from observatories on gender and feminist movements in 15 countries of the region, during January 2019, there were about 282 femicides in Latin America and the Caribbean. Mexico tops the list with 133 cases, Brazil is second with 69 cases, Honduras third with 30 cases and Argentina is next with 27 cases.
The situation is similar in other countries of the region. Violence against girls and women has become a cause of concern for women, feminists as well as social and human rights organizations across the continent and they are demanding an end to it.
The United Nations cited "machismo" or male superiority as one of the main causes behind the ruthless femicides because it normalizes violence against women.
Argentina
On February 1, hundreds of Argentine women, feminist activists, movements and organizations celebrated another day of struggle, and carried out a massive demonstration in Buenos Aires to condemn the 27 femicides that were registered in January. Under the banner of Ni Una Menos [Not One Less], the protesters marched from the National Congress to the Plaza de Mayo to protest the violence against women, lesbians, trans, transvestites and non-binary persons.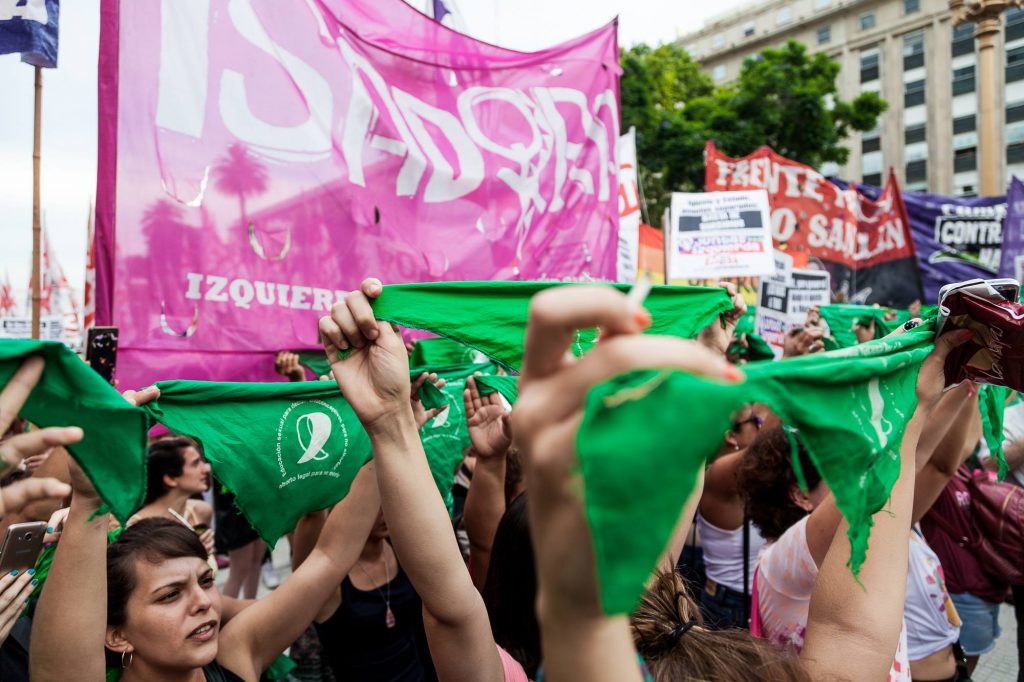 They demanded the national government to develop public policies to eradicate sexist violence. A number of significant demands to strengthen the socio-political condition of women were presented in a document called "Declaration of Emergency in Violence against Women". A budgetary increase for the National Institute of Women (INAM) that addresses gender violence, and for the ministries that allocate equal opportunities and rights between men, women and dissident identities was one of the many key demands.
According to a recent study of the "Now You See Us" observatory, one woman is murdered every 26 hours in Argentina.
"We are on the street against male violence. The number of femicides that have occurred since this year began is very high, worrisome, alarming and inversely proportional to the response that the State gives," said Myriam Bregman, a renowned activist and legislator in the city of Buenos Aires for the Worker's Left Front.
In the province of Jujuy also, feminist and social activists marched to the office of attorney general and filed a criminal suit against health minister Gustavo Bouhid, governor Gerardo Morales and the medical team of Hector Quintana Hospital for torturing, hindering the Legal Termination of Pregnancy (ILE), breach of public official's duty and violating the right to privacy and confidentiality of a 12-year-old rape victim, who was systematically forced to motherhood.
Slogans such as "girls not women", "it was not ILE", "legalize abortion now" remained prominent during the protest.
"In this country, if a girl gets pregnant, it is because she was raped. So we have to continue asking for ILE, as well as a comprehensive sexual education, to prevent violence," said Sele Fierro, a member of the Workers' Socialist Movement (MST).
The National Campaign for the Right to Legal, Safe and Free Abortion, together with Ni Una Menos movement, demanded the implementation and compliance of the protocol for integral attention to the people with right to ILE, and its adhesion without restrictive modifications. They plan to present a new Voluntary Interruption of Pregnancy Project and carry out a massive rally on March 8, demanding its approval.
Colombia
On February 2, a peaceful demonstration was held against the femicide of Katherine Jineth Astaiza Molano, a 20-year-old university student, in the municipality of Timbío, Cauca department, Colombia. Her family, relatives, friends and members of Timbian community marched through the main streets of the town, demanding justice for her and requesting the attorney general's office to accelerate the investigation process so that the culprits do not go unpunished.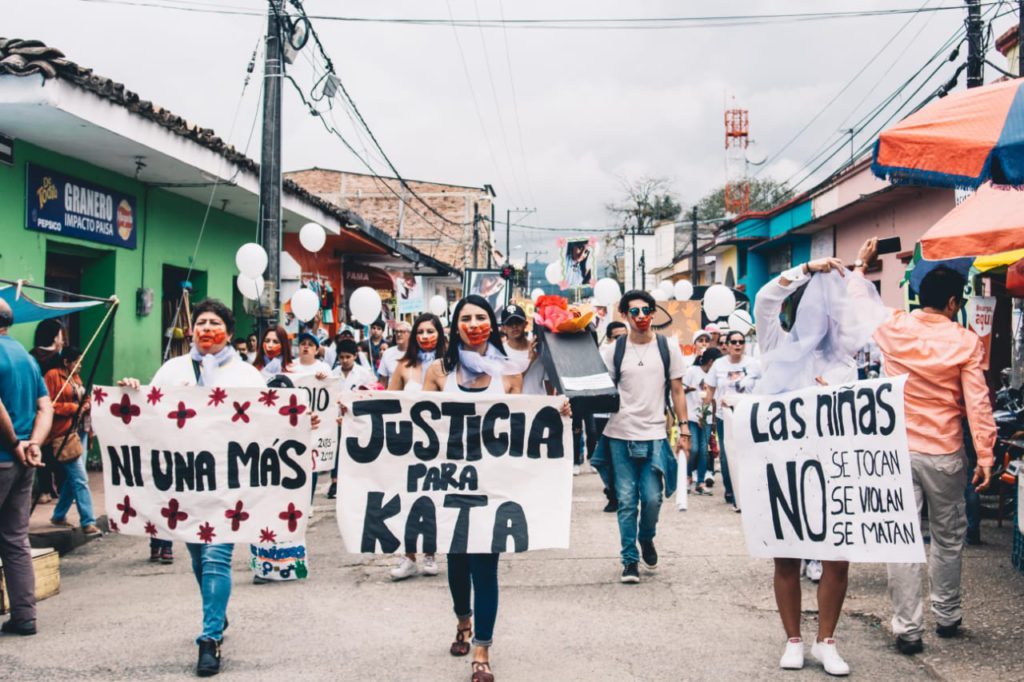 Katherine was stabbed and shot dead by a group of men on the evening of January 3. She was last seen in the central park of the town with her boyfriend, who was severely injured. Her body was found in the Quilcacé River, at the border of Rosas and Timbío municipalities. After a month of investigation, there is still no clarity regarding the incident.
"We will continue searching for justice, we are worried that after so long, they have not yet found the murderers, but with the help of God, they will find them, and they will be condemned for this crime," said Carlos Tulio Molano, Katherine's grandfather.
Many accuse a former member of the National Police, who was in a relationship with Katherine months ago, as responsible for the crime. Her relatives denounced the irregularities in the investigation. For instance, they said that after her body was found, it was left in a van for almost 10 hours outside the attorney general's office. Also, Katherine's father, Breiner Astaiza, informed the local media that the man who was arrested with charge of being involved in the murder, was sentenced preventive detention in a hearing held in Popayán. But from there, he was sent back to the Timbío station and then they sent him to Paispamba. "They should have kept him in Popayán", he insisted.
Women marched with placards that read "not one more", "justice for Kata", "the abuser does not fit into a just society", etc. One of the placards highlighted that over "1,437 women were assassinated between 2015 and 2018".
Honduras
According to the violence observatory at the National Autonomous University of Honduras (UNAH), over 30 women have been murdered in Honduras in the month of January. The report pointed out that most of them were victims of domestic and sexual violence. They were between 4 and 70 years of age and were killed by their partners or a family member. The report also highlighted that 95% of the country's femicides that happened last year are still unpunished.
Mexico
A massive rally on February 2 in Mexico against femicides, kidnapping attempts, disappearances and gender violence. More than 5,000 women in Mexico City marched to the center of the city to raise awareness about aggression against women and to demand measures for safeguarding women's life.
At the beginning of the march, one minute of silence was observed in honor of those who have been murdered and reported missing throughout the country. Hundreds of women dressed in purple and chanted slogans, including "not one more", "they were taken alive, we want them back alive", "we are not all, the assassinated ones are missing", "I want to live, not survive", "do not be indifferent", "be careful, machismo kills", etc.
In recent weeks, a large number of attempted kidnapping of women by men inside and outside of metro stations have been reported in the country's capital. Claudia Sheinbaum, mayor of Mexico City, said that the measures to combat aggressions and kidnappings are ongoing and that meetings with the heads of the metro and government law and order forces are also being held.
"It is [important] to stop being indifferent to these events, we have to put an end to indifference and be empathetic with other women, even accompanying them until we reach a safe place (…) it is about creating support networks against gender violence," said Marian Lira, a feminist activist.
According to the United Nations, nine women become victims of femicide every day in Mexico,  and six out of ten face harassment on public transport.
According to the data from the Executive Secretariat of the National Public Safety System, a total of 861 femicides was registered in Mexico in 2018.
It is important to highlight that last month, on January 21, thousands of women and activists in Quito, Ecuador protested the brutal rape of a young woman at a restaurant in Quito, the femicide of a 22-year-old pregnant woman stabbed to death by her boyfriend, a few hours away from Quito, and the witch hunt of Venezuelans in Ibarra due to xenophobia.
Femicides, gender-based crimes and aggression against women are not something new. Women have been continuously fighting against patriarchy and for their rights. These mobilizations represent their determination to continue fighting until they achieve complete social, political and cultural equality.