On Wednesday, December 4, hundreds of women from various parts of the State of Tamil Nadu in India, who were heading towards the government secretariat demanding the rights of women, were violently detained by the police. Since November 25, the activists, under the banner of the left-wing All India Democratic Women's Association (AIDWA), marched for 400 km through villages and towns in Tamil Nadu to protest the escalating violence against women and discrimination prevalent in many sectors.
On December 3, the marching women reached Tambaram, an area in the neighborhood of the State's capital of Chennai, and camped there at night. On the next day, the protesters started marching towards the secretariat to make their voice heard in front of the government. Soon after the women started marching, they were blocked by the State police and later, they were violently detained.
"We tried to march towards the bus stand, but the authorities said that there is no permission to proceed. Actually, the assistant commissioner had given us the permission to march till Tambaram bus stand. In fact, they even approved the route through which we have to march to the bus stand. We were told that if we try to proceed after the bus stand, we will be arrested. But, when we came out of the wedding hall where we had stayed the night before, the huge police force which had been deployed there started arresting us saying that the permission to march even to the bus stand has been cancelled," U Vasuki, one of the leaders of AIDWA, told NewsClick.
When the police tried arresting the marching women, they resisted and some continued marching and "reached DSP road and started picketing."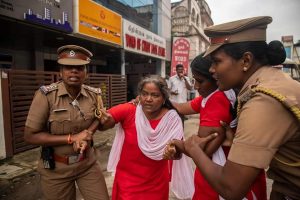 While addressing the protesters on Wednesday morning soon after they were blocked by the police, K. Balabharathi, Communist Party of India (Marxist) leader and former legislator, said, "The chief minister, who is not willing to meet the marching women, is using the police force to unleash violence on the peaceful protesters. But the government has not arrested the man who had built the caste wall in Mettuppalayam that led to the death of 17 people on Monday morning."
The march consisted of two groups – one marched from the city of Thiruvannamalai and the other one from Vadalur in Cuddalore district. The marches were led by AIDWA leaders S. Valentina and P. Sugandhi .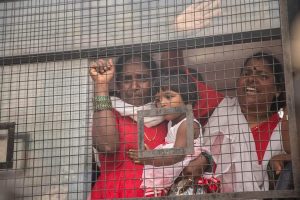 Throughout the march, the teams were joined by many residents, who accompanied the women till the borders of their villages. The protesters also organized small meetings at a distance of every 10-20 km, which saw huge participation by villagers.
This article first appeared on Newsclick.