The Greek working class took out a massive nationwide strike on November 26, demanding safety and resources to fight COVID-19. The strike action was joined by sections from all walks of life, including factory workers, teachers, health workers, youths and students, professionals, government employees, seafarers, among others. The workers carried out limited demonstrations adhering to COVID-19 safety protocols in several cities at factories, offices, hospitals, schools, and various other workplaces. In Athens, workers demonstrated in front of the ministry of labor.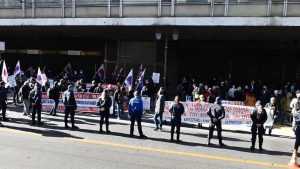 Demonstrations were also held in Thessaloniki, Patras, Chalkida, Grevena, Chania, Anthousa, Lesvos, Preveza, Alexandroupolis, Kastoria, Larissa, Rethymno, Thesprotia, Arta, Kozani, Kos, Naoussa, Piraeus, and other cities.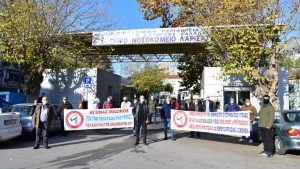 A delegation of trade unionists from the Labor Center of Piraeus, as well as seafarers and other unions in the area, staged a protest at the ministry of shipping.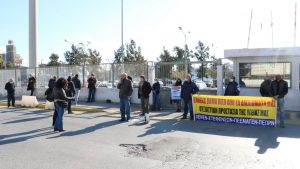 Trade unions have demanded benefits without terms and conditions to all those who are unemployed, revoking all illegal terminations that have taken place during the COVID-19 period, and ending further redundancies. They also demanded no cuts in employment rights and a moratorium on bank payments, along with free electricity, gas, water, communication services, etc., for workers in quarantine.
Protesting health workers have demanded more hospital beds, including in the ICUs, additional diagnostics and laboratory centers, as well as the mass recruitment of doctors of all specialties and nursing staff. A key demand is that the government ensure sufficient infrastructure and Personal Protective Equipment (PPE).
Teachers, parents and students unions are calling for more cleaning staff, the division of classes so as to ensure a limit of 15 students per class, and facilities for free and accessible online learning. Additional staff and services have also been demanded for the public transport infrastructure.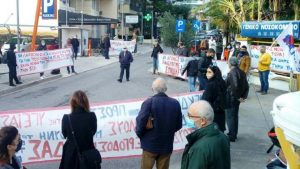 The Communist Party of Greece (KKE) expressed solidarity with the striking workers and played a major role in the successful organization of the strike actions across Greece. On Thursday, secretary general of the central committee of the KKE, Dimitris Koutsoumbas, stated, "today's strike is a great battle. Just as the attack of wealth and government against our people is not stopped, so the struggle to strengthen the public health system, to defend the rights of workers and all the people, cannot be stopped and banned."
The All Workers Militant Front (PAME) stated, "the government failed again! The strike succeeded, with the participation of large workplaces, factories, with almost complete participation in public transport. With actions in public hospitals and protests all over Greece. The success of today's strike sent the first message. Fear, intimidation, pessimism, the logic to deal with the issues later did not pass." 
PAME has accused the right-wing New Democracy-led government of mishandling the outbreak of COVID-19 in Greece. It also criticized the government for trying to suppress the strike action in Athens and other big cities with riot police and armored vehicles. According to its statement, seven trade unionists have been detained in Giannena, and dozens others fined hundreds of Euros for participating in the strike.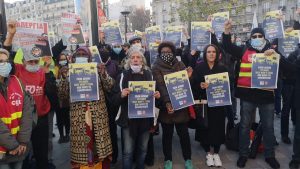 The striking workers of Greece have received international solidarity greetings from the Hamburg Struggle Committee of Workers in Germany. French unions and workers, who were holding a rally in Paris against the persecution of trade unionists by the company Monoprix, also extended their solidarity with the Greek workers, raising posters such as  "Solidarity with the Greek working class – From Paris to Athens. You will not take our right to demonstrate."