On Sunday, December 12, thousands of workers marched in Istanbul in Turkey demanding a decent minimum wage on the call of the Confederation of Revolutionary Trade Unions (DiSK). Following the march, a massive gathering was held in the Kartal district of Istanbul. Workers are demanding an increase in the minimum wage to at least 5,200 Turkish lira (USD 358.80). Progressive political groups, including the Communist Party of Turkey (TKP), Communist Youth of Turkey (TKP), EMEP, LEFT Party and Halkevleri, participated in the march and expressed solidarity and support to the workers.
Working class sections in Turkey have been devastated by the economic crisis since 2018, which was further worsened by the COVID-19 pandemic. Common citizens have been affected by rising inflation and devaluation of the currency. The right-wing government led by Recep Tayyip Erdogan has been trying to repress the popular protests. 
The protesting workers told evrensel.net that "minimum wage should be at a level where a family of four can meet their mandatory needs. But no one gets by on the minimum wage. The lowest house rent is 2000 liras (USD 138), bread is 3.5 lira (USD 0.24), bagels are 3.5 lira (USD 0.24). 2,825 liras (USD 194.93 – current net minimum wage) does not meet any needs."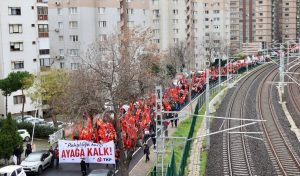 While addressing the mobilization on Sunday, DiSK leader Arzu Çerkezoğlu said, "We are the ones who bear the burden of the economic crisis" and "We're thinking about how we're going to get through this black hole. Every morning we wake up with new rises [in prices]." 
"We get poorer every day, but according to the men who run the country, everything's fine. We talk about the cost of items and price hikes, and say we don't get by; we talk about inflation but the Turkish Statistical Institute (TUIK) says inflation in only 21%. We point to unemployment, we say our children are unemployed but they say unemployment is down in this country. We say we can't get by, they say the economy is booming. We say, do not make fun of the working class," he said.
Raising the banner #AyağaKalk, hundreds of cadres and sympathizers of the TKP joined the workers' rally in Kartal on Sunday. Regarding the mobilization, TKP stated, "Our labor is being exploited, our country is being plundered. Every day labels are being changed, bills are rising, and our lives are being stolen. We have to resist for our life, our future. Now is the time to rise up!"