[India's most populous State, Uttar Pradesh (UP), is set to go to the polls in February. The State is currently ruled by the Bharatiya Janata Party (BJP) under hard-right chief minister Yogi Adityanath. The upcoming election is seen as very crucial as it will be a barometer of the political mood in UP, which sends 80 members to the Indian parliament]
The final bugle for Assembly elections has been sounded. Prime Minister Narendra Modi, Uttar Pradesh chief minister Yogi Adityanath and the whole Bharatiya Janata Party (BJP) propaganda machinery – government-run or party-run – is been harping on the 'double engine' advantage of having the same party ruling at the Center and the state. Does this really give any benefit to people? On the key issue of employment, it surely doesn't seem to have worked.
This failure is spectacularly visible amongst urban youth. According to the most recent quarterly report of the Periodic Labour Force Survey (PLFS) which covers only urban employment, joblessness among urban youth of the UP was just above 23%. That means nearly a quarter of youth aged between 15 and 29 years are recognised as unemployed.
As the graph below (drawn from preceding quarterly reports) shows, this situation has prevailed for the past nearly three years. It predates the pandemic. In the third quarter (October to December) of 2018-19, urban youth unemployment was at a jaw dropping 29% in UP, significantly higher than the average for India which stood at a distressing level of nearly 24%. UP's youth unemployment rate has remained more than the India average for most of this period except during the first lockdown in April-May-June 2020.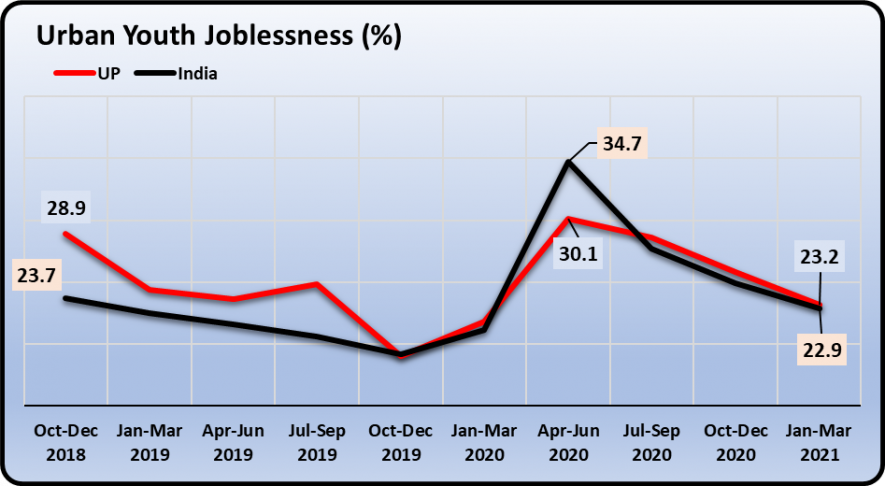 The annual PLFS involves a sample survey of over 100,000 households covering nearly 420,00 individuals spread across both rural and urban areas. It is published by the National Statistics Office (under the ministry of statistics) which also publishes quarterly reports which survey a sample of 170,000 individuals.
These shocking levels of unemployment become all the more worrying if one notes that they are derived from what is known as 'Current Weekly Status' or CWS. Under this measure, a person is defined as employed if he or she worked for one hour in the whole of the week preceding the day on which survey was carried out.
With this definition, one can imagine the depth of unemployment – over 20% of youth are not even finding an hour worth of work in one week! The remaining who qualified as 'employed' may have worked for anything between two hours in a week to the full week.
Overall unemployment is too high
High rates of urban youth unemployment are existing in conditions where overall unemployment rates too are disturbingly high, as the graph below (drawn from PLFS Annual Reports) shows.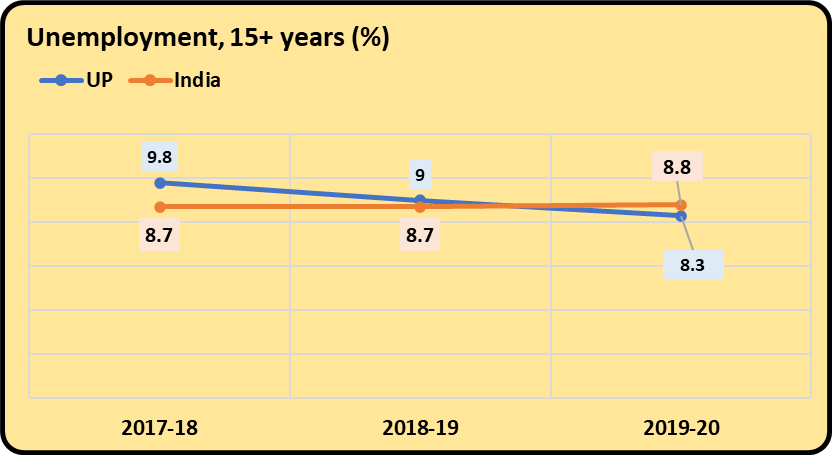 This is for the whole population, that is, all people above 15 years of age, and again, it is for CWS – one hour of work per week. With 8-9% of the working age population unemployed consistently for the past three years, families are facing a never-before economic crisis. Remember that this includes agriculture, which has been a saving grace. It has absorbed a large number of unemployed people – including returning migrants during lockdowns. Despite this cushion of sorts which prevents mass starvation, 8-10% unemployment in a large state like UP is a glaring failure of the double engine.
Double engine fails

As the graph shows, whether it is Modi or Yogi, the unemployment situation is the same. The two engines are leading urban youth into a purgatory of poverty and humiliation, because they must be having to depend on either their elderly parents for survival or borrowing from friends and relatives. This is the fate of the great "demographic dividend" that many boast about, the young working age population in the prime of its productive years.
It is not really surprising that both Yogi and Modi have led their respective governments down the same path. After all, they have been adopting the same economic policies. Learning from his mentor in New Delhi, Yogi Adityanath has held grand investors' summits in Lucknow to lure private investment to the State. It has squeezed government expenditure on welfare schemes ostensibly to provide space to private sector and has outsourced and contracted out work to save money. It has diluted labour laws (in fact UP government suspended all industrial laws after the pandemic) and has been reluctant to increase support prices for agricultural commodities like sugar cane, and it has kept thousands of government posts vacant. These are very similar to PM Modi's own economic policies.
These economic policies have not only led to mass unemployment but also caused untold distress in the devastation caused by the pandemic. With health infrastructure deficient, nutrition programs inadequate and social security almost non-existent, the people have mostly been left to themselves.
UP had an urbanization rate of about 22% in the last Census (2011). With a projected population of about 230 million in 2021, this means that about 51 million persons were staying in urban areas which may range from big cities (like Lucknow, Varanasi, Kanpur, Meerut, Gorakhpur, etc) to smaller towns. That's the largest urban population in any State in absolute terms, though not as a share. High unemployment in this vocal and aspirational section will mean increasing disillusionment with the 'double engine' both components of which had promised a large number of jobs while seeking votes. The BJP may well face troubling times in urban areas in the upcoming Assembly polls.