The extremist Bolsonarist tendency led to another tragedy on Saturday night, June 9, in Foz do Iguaçu. Friends and family members had planned a Workers' Party (PT) themed event to celebrate the 50th birthday of municipal guard and PT treasurer Marcelo Arruda. According to André Alliana, a close friend of the victim, moments after the guests sang "Happy Birthday", an unknown man invaded the celebration, shouting and hurling insults.
"The party was PT-themed. Around 11 pm a guy that nobody knew showed up cursing the guests, calling Lula a disgrace and shouting Bolsonaro's name. The crazy guy said he would come back to kill everyone. And he came back," describes Alliana. Marcelo Arruda was a candidate for vice-mayor of Foz do Iguaçu for the PT in 2020.
Faced with death threats, Marcelo went to his car to get his gun. Minutes later, federal prison guard Jorge José da Rocha Guaranho returned with a gun in hand, already shooting at Marcelo. According to witnesses, the perpetrator appeared to be under the influence of drugs, and had his wife and daughter in his car. Outside the event, witnesses said it was possible to hear the Bolsonarist's wife screaming, begging her husband not to commit the crime.
"We could hear his wife screaming asking him to leave and he was very upset, with a lot of hate. He was swearing at the PT supporters and saying that Bolsonaro would be elected. That Lula is a bandit and that all PT supporters should die. It was a tragedy, something senseless. We are all in shock," says one of the guests, who witnessed the murder and prefers not to be named.
Marcelo was killed with two shots at close range. Before he died, he managed to shoot back and hit Jorge José three times. Initially, the Civil Police of Paraná reported that José had also died, but corrected the information this Sunday afternoon.
"The truth is that he came with the intention of shooting everyone. The only reason more people didn't die is because the guy didn't have good aim. Marcelo died and because of him the tragedy was not even greater," added the anonymous witness.
Marcelo Arruda was affiliated with the Workers' Party in Foz do Iguaçu. During the 2020 municipal elections, he ran for the position of vice-mayoral candidate. With nearly 30 years of service to the city's Municipal Guard, he was director of the Public Servants Union and treasurer of the party's municipal directory. He leaves behind his wife and four children, including a one-month-old baby.
In his Facebook profile, André Alliana wrote about the loss of his friend. "When I say that people are sick and that the lack of respect and dialogue is a tragedy, some people think it is an exaggeration. People attacking each other over politics and now we know that they also throw bombs and kill. Today I lost one of my best friends," he wrote.
The Party demands action
In a statement released July 10, the PT paid tribute to Marcelo Arruda and stood in solidarity with his family. "One more dear comrade was gone this early morning, a victim of intolerance, hatred and political violence," said the statement.
The party demanded action from the security authorities and the judiciary to "firmly restrain any situation that fuels a climate of violent dispute outside the framework of democracy and civility."
"Packed by a discourse of hate and dangerously armed by the official policy of the current President of the Republic, which every day promotes confrontation, conflict, and attacks on opponents, anyone who becomes influenced by this project of death and destruction can become aggressors or murderers," the text says.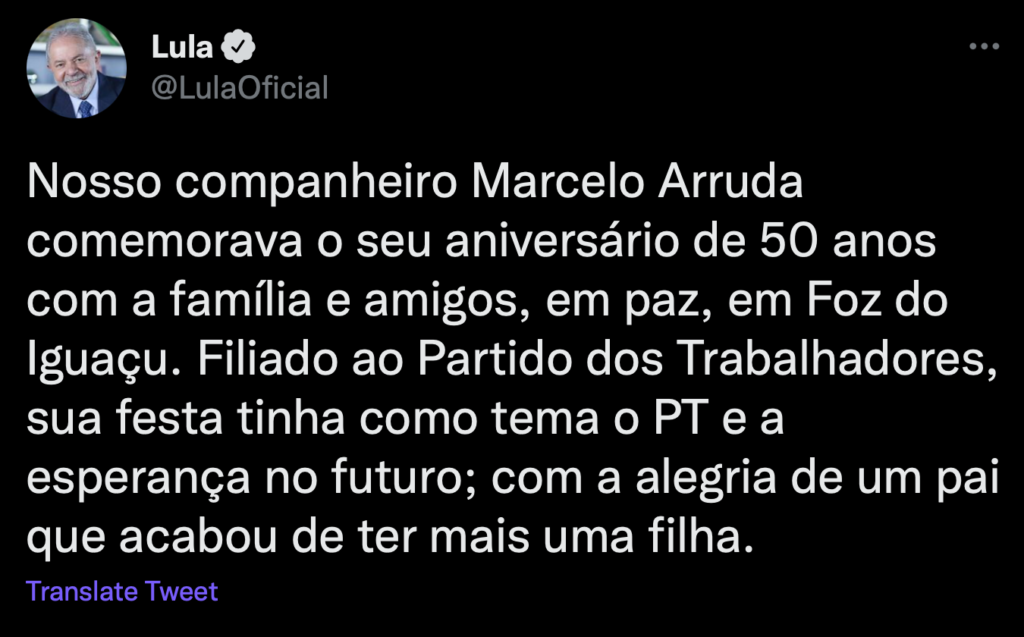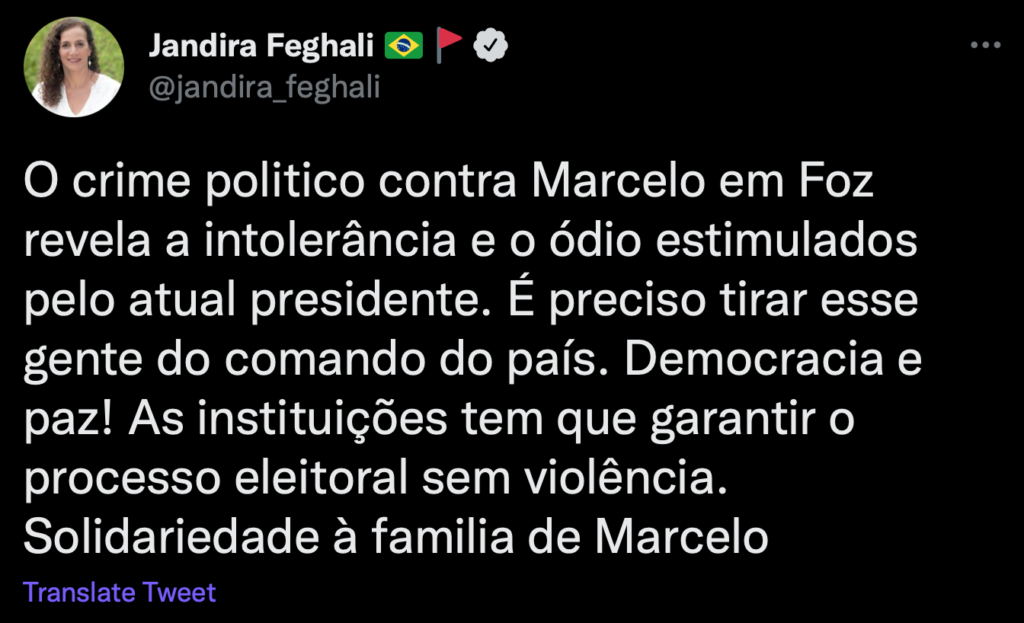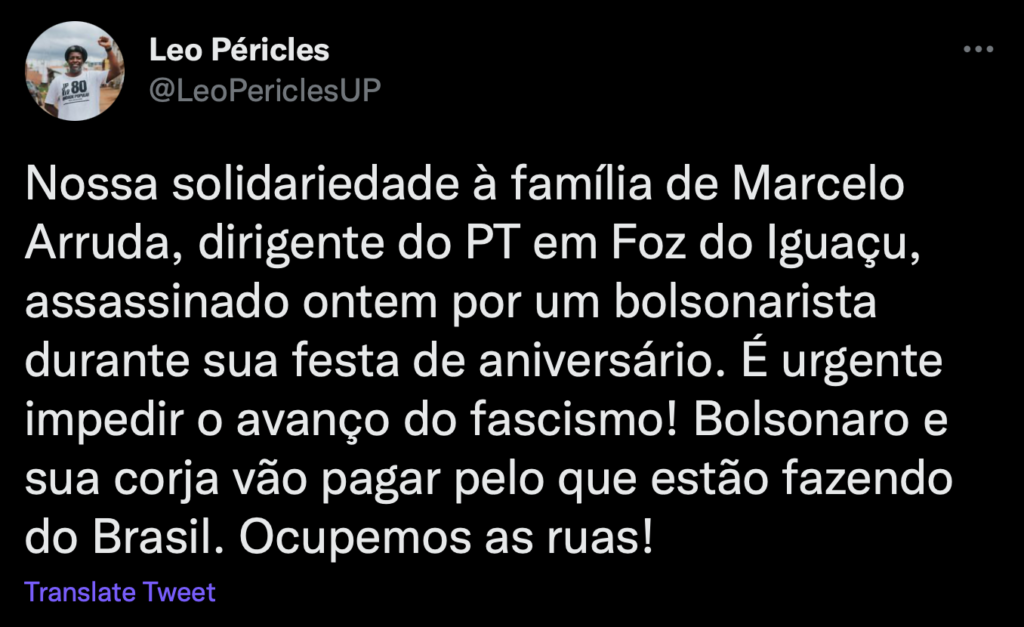 This is not the first incident of violence from supporters of Jair Bolsonaro. Moa do Katendê was 63 years old and was executed with 12 stab wounds in the back in a bar in Salvador, in October 2018. The perpetrator admitted that he decided to attack Katendê because of a debate about the elections.
This article was adapted from several articles originally published by Brasil de Fato.