Even as the United Nations Security Council (UNSC) passed a landmark resolution on Myanmar denouncing the continuous rights violations in the country, thousands of residents of Yangon complain that junta forces have forcibly evicted them by bulldozing their houses, rendering them homeless.    
On November 22, nearly 500 police personnel and soldiers, accompanied by three bulldozers, arrived in Yangon's northern outskirts and started demolishing a large number of houses across 560 acres of land.
At least 40,000 people have been rendered homeless after the junta demolished more than 10,000 houses in Mingaladon alone. Locals lament that their houses were bulldozed in front of them while they could only helplessly watch them turn into rubble.
Meanwhile, the socio-economic crisis caused by these demolition has forced many to suicide. At least two individuals reportedly took their own lives in distress after the demolitions. 
IndustriALL Global Union reported on December 8 that ongoing military raids and the escalation in direct violence in Myanmar have rendered hundreds of members of the Industrial Workers' Federation of Myanmar (IWFM) homeless. At least 26 villages (where a large number of garment workers resided) were destroyed, allegedly by the military, on December 10.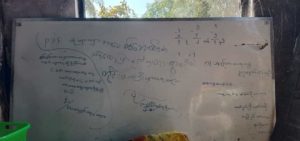 Forcible evictions
As estimated by independent research group Data For Myanmar, between May 2021 and November 2022, the military in Myanmar has burned or damaged 38,383 houses across 12 states and regions. Sagaing remains the worst affected, with 27,000 houses destroyed, followed by Magwe, where 7,800 buildings were torched.
Mingaladon, one of the most militarized townships in Yangon, saw a large number of people living in informal settlements evicted. The most recent mass evictions in Yangon took place on November 19, with residents forced out of 150 houses in Mayangone's ward three. 
During an overnight eviction nearly 5,000 households were rendered homeless in Chan Myay Thazi Township in November. 
"Homes continued to be systematically destroyed, bombed and burned down in orchestrated attacks on villages by the Myanmar security forces and junta-backed militias," United Nations experts said on December 2. 
According to rights bodies, Myanmar's military is continuing forcible evictions in order to acquire more land, forcing at least 50,000 locals from informal settlements into homelessness by systematically destroying their homes. The UNSC has termed this a fundamental violation of human rights.
This continues a pattern established earlier this year. While military-backed evictions have increased since February 2021, there has been a larger surge over recent months. Soon after the military coup, at least 38,000 houses were destroyed or burned down, resulting in mass displacement within Myanmar. These numbers are reported to have risen to 1.1 million recently, as estimated by the UN.
On November 23, as many as 95 houses were burned down in the Kha War Thei village in Kyunhla Township, when the Myanmar military set fire to the settlement. In their statement, UN experts express fear that these incidents follow the same pattern as the genocidal violence from 2017 perpetrated by the military against the marginalized Rohingya.
Earlier in March 2022, the spokesperson of junta forces General Zaw Min Tun had defended the eviction and demolition drives in the country, arguing that "squatters" were being evicted in line with the "rule of law."
UN experts have noted that "depending on the context" these forcible evictions and destruction of homes by the junta in a systematic manner "can be prosecuted either as a war crime, a crime against humanity, or both." It is critical that the international community ensure that those responsible for such crimes face justice.