Schools teachers and their unions in Portugal have intensified mobilizations demanding an increase in wages and time-bound promotions at work. A mobilization in Lisbon on Saturday, February 25, was the latest of three major mobilizations called by teachers recently. The Union of All Education Professionals (STOP), the Independent Union of Teachers and Educators (SIPE), the National Federation of Teachers (Fenprof), and Federação Nacional da Educação (FNE), among others, are leading the protests and also observed a protest week in schools from February 13 to 17. 
The teachers' protest is taking place alongside general protests under the title Vida Justa, or 'Fair Life', by the Portuguese working class, as neighborhood groups demand wages that keep pace with the soaring inflation. Teachers have currently also set up around 20 tents in front of Portugal's parliament as part of the protests. Their strike is likely to continue on March 2 and 3 if the negotiations with the authorities do not move forward.
Teachers' unions began protesting in December, when negotiations for a wage hike at par with inflation failed. The union STOP demanded an increase of 120 euros (USD 127.09) a month in the salaries of teachers and school professionals to combat the cost of living crisis, but the Socialist Party (PS)-led government in the country offered a rise of only 52 euros (USD 55.07) per month. 
On February 23, STOP announced that 96% of the thousands of school employees consulted by the union had rejected the Ministry of Education's proposals.
Teachers are also complaining that promotions to various levels in the profession are constrained by faulty criteria. According to the annual report of the National Council of Education, school teachers currently require "39 years of service and 62 years of age to ascend to the last level of pay." Few teachers today reach this level of seniority, or can only reach it around retirement age. 
Meanwhile, the authorities have procured a court order demanding a minimum amount of work from protesting workers even during strikes.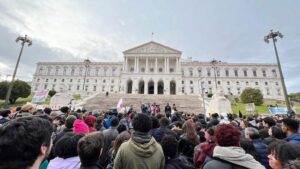 While addressing the parliament on February 10, Joana Mortaágua, MP from the Left Bloc (BE), said "we can pay millionaires in awards and stages but we can't pay teachers decent salaries? We live in a country where 400 million was given in tax breaks disguised as innovation, tax breaks for companies that profited from the crisis and millionaire awards to managers. The standing crisis argument to not respond to teachers' demands no longer fits."
Following the Vida Justa mobilization in Lisbon on Saturday, the Portuguese Communist Party (PCP) leadership stated that "the demand that runs through this demonstration, the demand that runs through the many neighborhoods from which the people who fill this demonstration came, is that of a fair life—with employment and fair wages, with regulation and control of prices of essential goods and services, with quality public services".