On Thursday, March 16, tens of thousands of Greeks took part in a national strike and massive mobilizations across the country, denouncing the deadly train collision that took place in Tempi on February 28. Major rallies were held in the cities of Athens, Thessaloniki, Larissa,  Corinth, Kalamata, Argos, Tripoli, Zakynthos, Corfu, Lefkada, Kavala, Xanthi, Chalkida, Mytilene, Kos, and others. Protesters raised slogans such as "the rails of development were stained with blood; we will never forget the crime on the trains" and "we count dead on the rails of Tempi; blood for the profits of the bosses." 
Activists from the All Workers Militant Front (PAME), Communist Party of Greece (KKE), Communist Youth of Greece (KNE), Greek Women's Federation (OGE), and Students' Struggle Front (MAS), among others, participated in the mobilizations. Protests were also held in front of the offices of the Hellenic Railways Organization (OSE) and the private train operator Hellenic Train SA. 
On February 28, in a deadly head-on collision between a passenger train and a freight carrier train on the Athens-Thessaloniki Main line in Tempi, near Larissa, 57 people were killed and 85 others were injured. Outraged by the tragedy, working class and student-youth groups began vigorous protests across the country, claiming that criminal negligence, underfunding, and privatization by the rail authorities and the government had led to the accident. Massive mobilizations were held across the country on March 8.
Following the accident, the Communist Party of Greece (KKE) re-released a note of warning issued earlier by the Democratic Unionist Trade Union Movement of Railway Workers (DESK-S) on February 7, regarding shortages of staff, security, and resources at critical railway services and infrastructure that may lead to fatal accidents.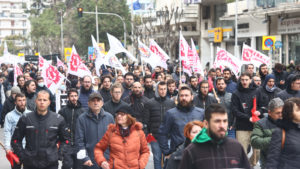 In its statement on March 17, PAME said that "March 16 marked 16 days since the crime in Tempi, Larissa, when 57 people, workers and young children, did not return to their families. The slogan 'this crime will not be forgotten; we will be the voice of all the dead' will not fade away. On the contrary, it is heard louder from thousands of mouths across the country!"
PAME has stated that the mobilizations on March 16 were the best answer to those who attempted to put the crime "on ice," to shake off all responsibility, or to turn the crime into just a narrative of "human error." The union said that the state of the few, ruled by the god of profit, that treats the workers and their needs as a cost, will not "get off the hook."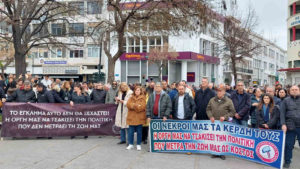 Secretary general of the Communist Party of Greece (KKE) Dimitris Koutsoumbas also took part in the protest mobilization in Kavala on March 16, and said that "the modernization that the Greek people and the youth are looking for is the satisfaction of all modern popular needs and not the modernization of the guild of private companies, investors, and large contractors, which the current government serves and all the previous governments served, leading the Greek people to the bloody rails of destruction."