Massive mobilizations rocked France on Thursday, March 23. Workers have given an ultimatum to French President Emmanuel Macron demanding that his government withdraw the pension reform that was passed without a vote in parliament.
According to estimates by unions, a total of around 3.5 million people hit the streets in more than 250 locations across France on Thursday.
Workers have continued work stoppages in critical areas including energy, transportation, railways, seaports, airports, industries, school, colleges and universities, municipal services including waste management, and tightened blockades of major roads, bridges and roundabouts in major cities. Sporadic clashes with security forces have been reported in several areas along with arrests of protesters.
On March 22 in an TV interview, Macron reiterated his plan to implement the pension reform by the end of the year and did not show any willingness to cede to the demands put forth by the platform of trade unions and left-wing parties to roll back the reform, or to conduct a national referendum on its implementation. The unpopular reform, announced on January 10, called to increase the retirement age in the country from 62 to 64 and made 43 years of service mandatory to avail full pensions and benefits. Heavy deployment of security forces continues in cities under the order of Macron to remove blockades.
On March 16, Prime Minister Elisabeth Borne invoked the emergency provision Article 49.3 of the constitution to bypass voting in the National Assembly, and passed the "law amending financing of Social Security for 2023," instituting the controversial pension reform proposed on January 10. The move triggered spontaneous protest across the country. Protests intensified when the government survived a vote of no-confidence on March 20, tabled by opposition groups in the National Assembly. The motion failed after falling short of just nine votes.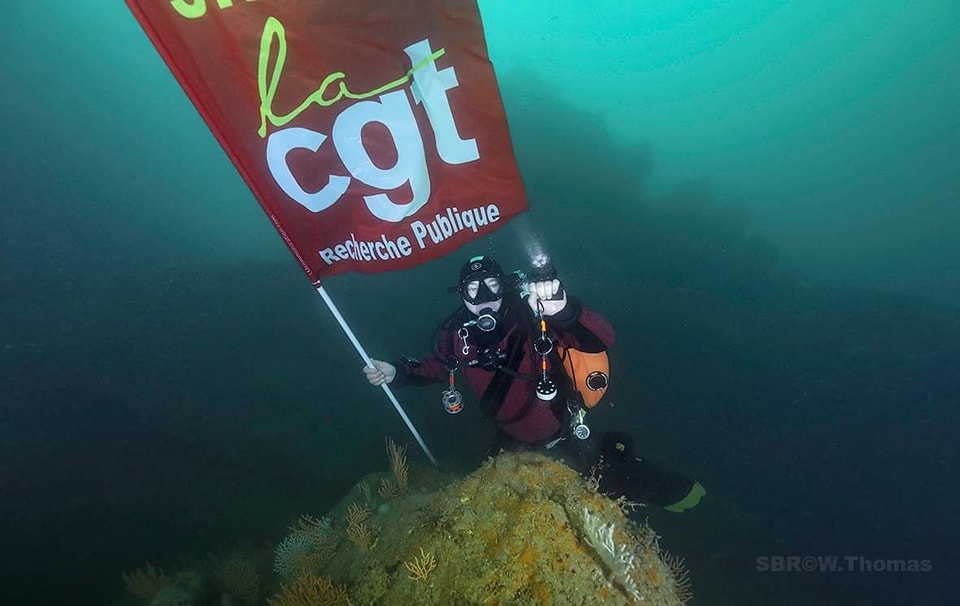 Trade unionists affiliated to General Confederation of Labor (CGT) and others have raised banners protesting the reform at the summit of Canigou at Pyrenees in Southern France, and CNRS divers from Roscoff mounted the CGT flag on the seabed to protest the reform.
On Thursday, Fabien Roussel MP, leader of the French Communist Party (PCF), said, "Macron is betting on violence, chaos in the country" while his "government is hanging by a thread. In a few days, we went from the debate on pensions to police violence."
He has also called to expand the mobilization, to bring the country to a standstill and hit the economy hard. Roussell urged "the creation of a union between the left and the trade union organizations to work hand in hand."
Trade unions and left movements from Greece, Belgium, Luxembourg, Italy, and elsewhere expressed support and solidarity towards the French protests.