April 27 is commemorated as Freedom Day in South Africa. It marks the first elections with universal voting rights after the fall of white supremacist apartheid rule, 29 years ago.
However, for South Africa's socialist militant shack dwellers' movement, Abahlali baseMjondolo (AbM), the occasion is a day of mourning – an expression of how poor and otherwise marginalized communities in the country remain profoundly unfree. On Wednesday, April 26, AbM members marched in the city of Durban to mark 'UnFreedom Day'. Wednesday's mobilizations was one of three to mark this year's UnFreedom Day, with events scheduled in the Mpumalanga province on April 28, and in Gauteng on April 29.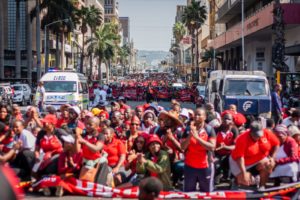 "All that we achieved in 1994 was the right to vote, it is not a complete political freedom," AbM's founding member and president, S'bu Zikode told Peoples Dispatch ahead of the mobilizations. This sentiment informed much of the movement's early organizing, especially the 'No land. No house. No vote' campaigns organized in 2006 and again in 2011, calling upon people living in informal settlements to withhold their vote in local elections.
"Freedom is not only a question of service delivery and budget constraints. It is a question of our full participation in all discussions and decisions about the future of our own communities and our country. It is a question of honesty, respect, and dignity for the poor. It is a question of full recognition," the movement had said in 2011.
AbM would develop and expand its approach over the coming years, these issues would remain at the core of its work, with the movement ultimately organizing under its present slogan of 'Land. Housing. Dignity.'
Access to land remains a crisis in South Africa, Zikode said, "Up until today, 87% of land remains in the hands of the white minority, mainly the white commercial farmers."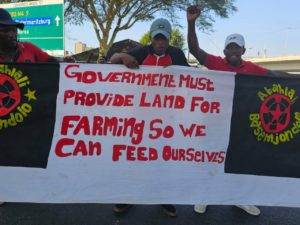 "We are not free because we are denied the right to well-located urban land and thereby our right to a place in the cities." AbM said in a statement on April 25. The alternative then becomes clear, "Those who do not have land must simply occupy vacant and unused land as a political act, not as a criminal act," Zikode stressed.
"Land will not be given, land is taken."
Occupation has served as the movement's key strategy to secure access to land, what AbM calls "expropriation from below." It has maintained that the "social value of land must come before its commercial value," and this not only informs how the movement occupies land, but how it is organized.  "Land must be collectively owned and democratically managed," AbM has said.
The right to land is inseparable from the right to housing which is enshrined in South Africa's constitution, drawn up by the very parliament that was elected on Freedom Day in 1994. Occupation has been used by the AbM not only to provide housing, but to realize other rights guaranteed by the constitution, but still denied in practice.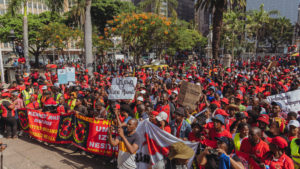 This is visible in its land settlements, including the eKhenana Commune in Cato Manor, where the movement has not only built housing but a "self-connected" electricity and sanitation network, a communal garden and kitchen, a poultry farm, and a political education school.
"When the state is busy connecting water and electricity for the rich… when it starts from the wealthy areas, we start from the poorest of the poor areas and we will meet halfway, and that is called urban planning from below," Zikode said.
For this, the movement has faced persecution and deadly violence. 24 of its members have been assassinated, including three leaders from eKhenana  — Ayanda Ngila, Nokuthula Mabaso, and Lindokuhle Mnguni — who were killed in 2022. AbM activists have been routinely arrested on bogus charges and imprisoned for months on end, or forced to go into hiding even when they are 'free.'
AbM's land settlements have been subject to violent evictions and attacks on collective projects, including by forces of the police and the Anti-Land Invasion Unit, and armed attackers with ties to local African National Congress (ANC) leaders.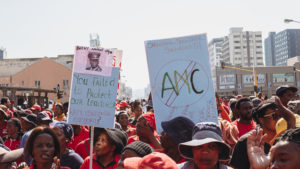 "We are not free because we are assassinated and murdered by the izinkabi (hitmen) and the police…We are not free because our attempts to build autonomous and democratic communities in which access to land and housing is decommodified are repressed with violence from the state and the ruling party," the AbM statement read.
Efforts by the movement to bring these issues to light, including on UnFreedom Day, have been met with police violence and repression.
Wednesday's march in Durban concluded at the City Hall, where AbM presented a memorandum of 16 demands addressed to President Cyril Ramaphosa. These included broader demands beyond the movement's most immediate issues including an end to loadshedding, a demand for job creation, an end to harassment of street traders, respect for taxi workers' rights, and an end to discrimination on the bases of nationality, gender identity, and sexual orientation.
The movement has demanded that the minister of police, Bheki Cele, be removed from his position, "as he has made no attempt to stop the assassination of activists and treats us with contempt". It has reiterated its longstanding demands the provision of all basic services, a "rapid release of urban and rural land for decent housing, an end to "transit camps", immediate and collective tenure security, and support for farming cooperatives.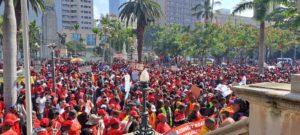 On behalf of urban and poor communities, AbM has called for "genuine participation in all decision-making".
"This democracy was not won by the politicians and it does not belong to them. It was won by the struggles of the people and it is defended by the struggles of the people…The wealth regulated and controlled by the state was not built by the politicians… It comes from our dispossession and exploitation… The wealth of society belongs to the people. It is public property."
In a statement of solidarity, the International Peoples' Assembly, a network of over 200 social movements, trade unions, and political and other organizations, said, "Since the movement's formation, AbM has experienced continued political persecution for struggling for the very freedoms celebrated on April 27."
"We echo the demands of AbM which insist that we cannot be idle whilst the kleptocratic elite continue to prioritize profit over people's lives. The social value of land must be prioritized over its commercial value!…We stand with AbM as the movement continues to organize, mobilize, and build towards a movement of communes!"