Three Palestinian administrative detainees continue to be on hunger strike in Israeli prisons in protest against their unlawful administrative detention without charge or trial, the Palestinian prisoners' commission (PPC) said on Saturday, November 9. The three detainees, who have been identified as Ismail Ali, Mus'ab al-Hindi and Ahmad Zahran, have been on hunger strike for the last 112, 49 and 51 days, respectively, as of Monday, November 11.
Ismail Ali, who hails from the town of Abu Dis, east of Jerusalem, is reportedly suffering from extreme weight loss, loss of vision, and impaired mobility after 112 days of strike.

Arrested in January, he was subsequently placed in administrative detention for six months. His detention was renewed in June, following which he launched his hunger strike. Ali has been in and out of Israeli prisons for several years, and has already spent a total of seven years in various Israeli prisons.
Mus'ab al-Hindi, 29, has been on hunger strike for the last 49 days. Belonging to the town of Tal near the northern West Bank city of Nablus, he was arrested in September 2019, and placed in administrative detention. He has recently been transferred to the hospital after his health condition deteriorated.
Ahmad Zahran's health is also critical. Zahran was detained by the Israeli forces in March 2019. In October, when he was 39 days into his hunger strike, the Israeli prison authorities agreed to release him. However, they later reneged on the agreement and continued to keep him under administrative detention, resulting in Zahran relaunching his hunger strike. Zahran's detention was later extended by four more months.
Last week, two Jordanian nationals, Heba al-Labadi and Abdulrahman Mar'i, who were also being held in administrative detention in Israel, were released after nearly two months in prison, according to statements by the Jordanian and Israeli foreign ministries. A massive campaign had been organized by activists across the region to demand the release of the two Jordanians, who were being held without any charge or trial in Israel.

Earlier in October, another administrative detainee, Ahmed Ghannam, ended his hunger strike of 102 consecutive days, after the Israeli high court ordered his release following the completion of his current detention period.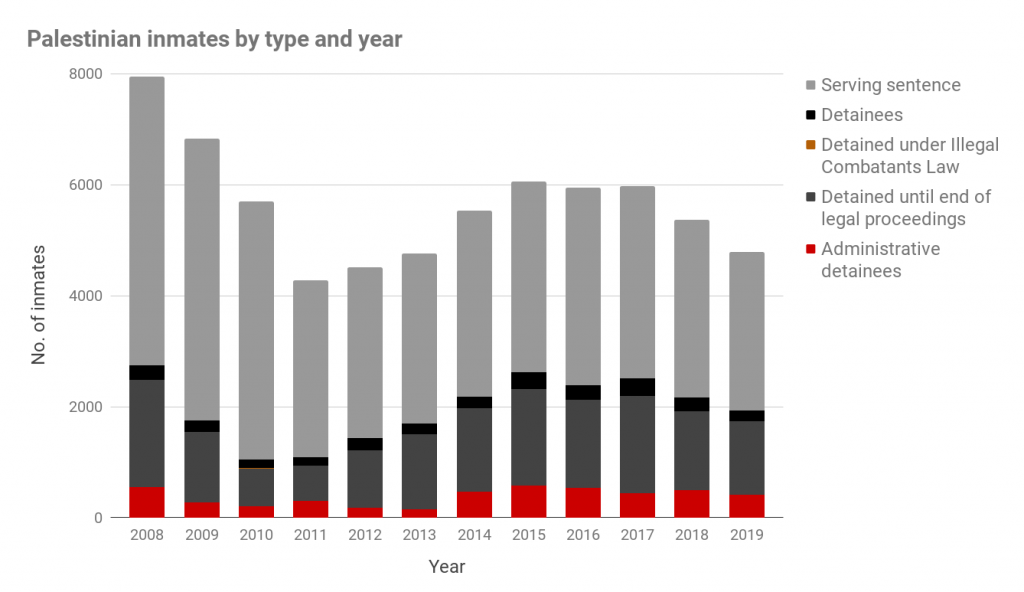 More than 600 Palestinian detainees are currently being held in Israeli prisons under administrative detention without charge or trial for indefinite periods of time. They are part of a total of 4,787 Palestinians imprisoned (as of 2019) in Israel, 200 of whom are under the age of 18, and 48 are women.