It seems like a lifetime of heartache, worry, fear and uncertainty, but it was only over six months ago, on March 11, that the World Health Organization (WHO) declared that the new disease, called COVID-19, was a 'pandemic'. That means the unknown viral disease, causing 'pneumonia-like symptoms', was affecting a large number of countries and spreading relentlessly.
At that time, there were over 100,000 cases spread across 100 countries. India had recorded about 50 of them, mostly returnees from abroad, and 16 Italian tourists. Next day, on March 12, a 76-year old Indian patient in Karnataka became the first recorded fatality of the disease.
The world has turned upside down in these six months, and so has India. As of September 11, India had a cumulative total of 46.6 lakh (4.66 million) confirmed cases (second highest in the world) and 77,472 deaths (third highest in the world) while the number of known active cases is 9.58 lakh (958,000, the second in the world), according to Health Ministry data collated by the Newsclick Data Analytics Team, and global data collated by Worldometers. On September 11, India reported a record 97,570 cases, the highest ever in the world, and for the week ending on that date, India had 6.37 lakh (637,000, cases, another record. [See chart below]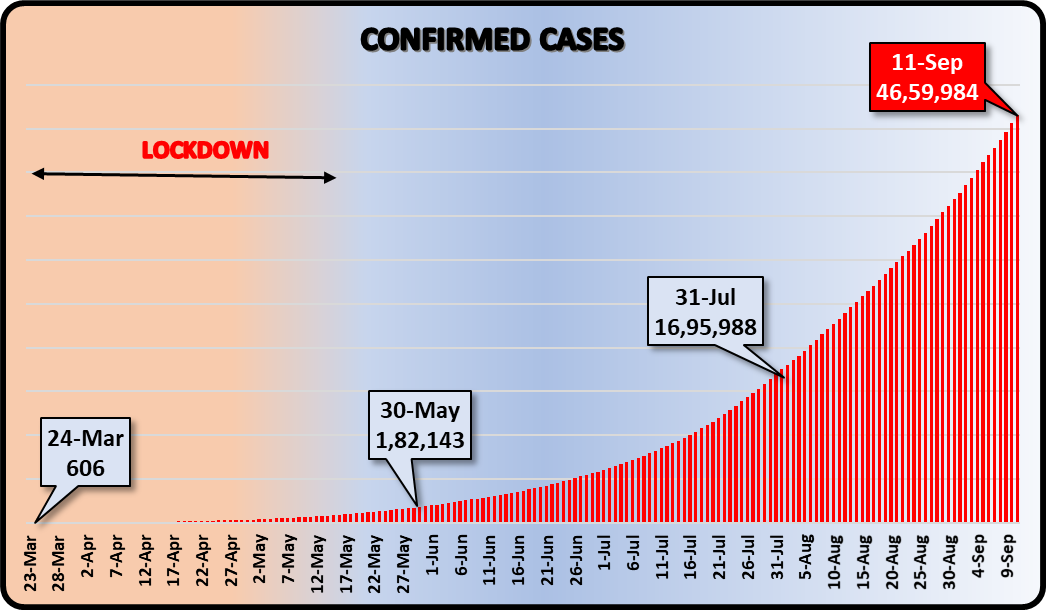 Meanwhile, the results of a country-wide sero-survey released on September 11, by the Indian Council of Medical Research (ICMR), revealed another mind-boggling number: an estimated 64 lakh (6.4 million) Indians were estimated to be infected with the coronavirus in early May. The officially confirmed cases on May 5, were about 53,000. The sero-survey results show that actual count of cases would be at least 120 times higher at that time. Imagine what it would be now.
Clearly, India has lost the battle against the virus. While there is consolation in the fact that deaths are not as high (probably due to younger population), he spread of the virus has been uninterrupted by any government action, and it shows no sign of receding. The deaths are mounting and the government's bizarre policies have simultaneously destroyed the economy. Let us look at the government's response more closely. This can be roughly divided into three stages.
Stage I – Complacency – Pandemic is not a problem
The WHO was first notified by China about the unknown virus in Wuhan city in the first week of January 2020. As a result, it initiated an emergency response that included alerting member states (including India). Not much was known about the emerging virus, but there was cause for worry. However, India didn't do much.
India recorded its first case on January 30, in Kerala. In the next 54 days, the Narendra Modi government repeatedly said there was no need to panic and that things were under control. The government airlifted people from Wuhan, China. On February 4, it cancelled visas of Chinese and other tourists who had been to China in the preceding two weeks. Airport arrivals were being screened, that is, temperatures were being taken. But, nothing more was done.
On March 3, Prime Minister Modi held a "review" of the situation with officials and tweeted that there was no need to panic, "small but important measures for self-protection" are all that is needed. Airport screening was extended to all arrivals – by which time hundreds of people had come in. Contact tracing of some of the confirmed cases was done with gusto, but others who disappeared, remained so. The State of Kerala declared the disease a 'State calamity' as did the States of Odisha and Haryana.
States were told to use the colonial-era Epidemic Act to deal with the pandemic. The Modi government invoked the Disaster Management Act, but it came into play later in Stage II.
By March 15, India had reportedly tested about 500 persons who displayed symptoms of pneumonia-like illness. Only foreign returnees were being tested. This was later expanded to include symptomatic persons.
On 22 March a 14-hour 'voluntary' lockdown was observed at the call of the PM, followed by clapping and banging of vessels. 50 days had passed since the first case in India and 69 days since the disease was declared a 'pandemic'.
Stage II – Bluster – Pandemic is a law and order problem
On 24 March, PM Modi announced that a three-week-long complete lockdown would be imposed on the whole country starting four hours later, at 12 PM. This was a dramatic 'shock and awe' type measure, symbolizing a swing from complacency and inactivity to the other extreme – thoughtlessness. It was implied that this would break the chain of transmission and hence vanquish the virus. There were about 500 confirmed cases in India by then.
The countrywide lockdown was extended three times and went on for nearly two months, after which it was eased in phases. The Disaster Management Act gave complete power to the National Disaster Management Authority, chaired by the Prime Minister and included Home Minister Amit Shah.
States were bullied into compliance repeatedly, although most of the State governments had no clue what else to do but follow the Central diktats. Police was given all powers to prevent movement of people, trains were cancelled, hundreds of thousands of people were stranded in distant places, migrant workers were left to fend for themselves and were forced to trek back home on foot. Over 500 people are estimated to have died in this period trying to survive the lockdown or walking back home.
This period was defined by the guillotine on India's economy. Industrial production dropped by nearly 63%, unemployment shot up to nearly 24%, an estimated 80% of households lost their earnings fully or partially, imports and exports plummeted, economic growth slumped, as shown by the near 24% drop in GDP (gross domestic product) growth for the April to June quarter this year.
This immense and unjustified sacrifice made by the people of India, however, did not prevent the coronavirus from spreading. Cases continued to rise inexorably – from 606 on March 24, to 1.9 lakh (190,000) on May 31 and further up to 5.86 lakh (586,000) by June 30.
Stage III – Surrender – Pandemic is a secondary problem, live with it
By the end of May, the Modi government was on the horns of dilemma, of its own making. The biggest weapon that it had – a lockdown – had already been used. The economy was in shambles. Its announcements of relief and welfare were miserly to the point of callousness. Hunger and misery were stalking the land, people were crying for relief. The corporate sector was clamoring that the economy needed to start functioning again – they were worried about profit margins.
So, the government announced an elaborate strategy of color- coded containment zones, it designated police officers to implement them, tinkered around with night curfews and weekend curfews, opened some markets, closed some malls, dithered over religious places and gyms, and told State governments to decide what they wanted to do, as they deemed fit. This spirit was carried rapidly down India's vast hierarchy, with states telling district collectors (local administration heads) to do what they wanted, the collectors hauling up police station in-charges to tighten their belts and follow the Central guidelines, and so on.
Overall, it was a full-blown disorderly retreat of a vanquished army. The face-saving device was – the economy needed to reopen.
Meanwhile, COVID-19 cases continued to rise – from 5.86 lakh (586,000) cases on June 30, the tally zoomed up to 16.96 lakh (1.69 million) by July-end, and further up to 36.9 lakh (3.69 million) by August-end.
In short, the ruling Modi government has mismanaged the handling of the worst 'natural' disaster India has seen. It is small wonder that in this, India's government is right up there with Brazil's Jair Bolsonaro and US President Donald Trump. These are three countries suffering the most from the pandemic, the cause of which is that they are led by persons who made a staggering mess of handling the pandemic.
[Data collation by Peeyush Sharma and Newsclick Data Analytics Team. This article first appeared on Newsclick]