On Wednesday, November 17, progressive sections in Greece marked the 48th anniversary of the Polytechnic uprising against the US-backed right-wing military junta that was in power in the country from 1967-1974. Thousands of people and various groups, including the Communist Party of Greece (KKE), Communist Youth of Greece (KNE), Students Struggle Front (MAS), All Workers Militant Front (PAME) and other anti-fascist, anti-imperialist groups, participated in an anti-imperialist march to the US embassy in Athens. Another massive anti-imperialist march was held in Thessaloniki which started from the Technical University of Thessaloniki. Activists paid tribute to the victims of the police repression unleashed to quell the Athens Polytechnic uprising. Events were held in the several cities across the country.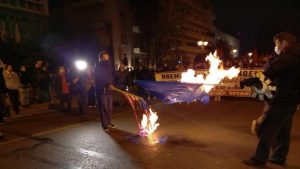 902.gr reported that demonstrators burned US and NATO flags as the anti-imperialist rally reached outside the US embassy in Athens. Many Greek soldiers also joined the rally and paid tributes to the fallen heroes of the Athens Polytechnic uprising.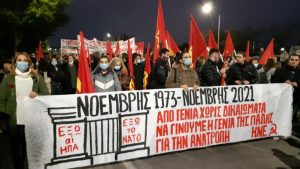 48 years ago, on November 14, 1973, the Athens Polytechnic uprising began as a student strike which escalated into a massive demonstration of popular rejection of the US-backed right-wing Greek military junta. The open anti-junta revolt ended in bloodshed in the early morning of November 17 after a series of events starting with a tank crashing through the gates of Athens Polytechnic. Around 40 students were killed by the military forces. Diomidis Komninos (1956–1973), a Greek high school student, was the first casualty of the uprising. He was shot opposite the main gate of the Polytechnic. The uprising has been regarded as an event which marked the beginning of the end of the Greek military junta and is hailed as a symbol of resistance to tyranny.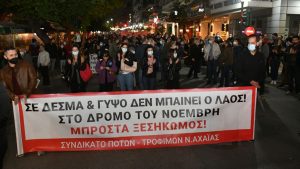 KKE general secretary Dimitris Koutsoumpas attended the anti-imperialist march in Athens and stated that "the messages of the Polytechnic uprising are still relevant today, precisely because both the bourgeois dictatorship that existed in 1973, and the bourgeois democracy that replaced it after 1974, serve and express the interests of monopoly capital and the imperialist alliances of the USA and NATO, confirm that only the people can save the people."