Lee en español aquí
On March 23, 2023, the Indian Patent Office (IPO) rejected pharma company Janssen's application for an extension of its patent on bedaquiline, a drug used in the treatment of patients affected by tuberculosis. Just a day ahead of World Tuberculosis Day—taking place this year under a "Yes, we can end TB" motto—health activists and tuberculosis survivors in India met the decision with joy. 
Priyam Lizmary Cherian, an intellectual property lawyer who argued the case at the IPO, said that the decision should ease the generic production of bedaquiline, making safe and effective treatment more accessible. "India, being a generic production hub, can count on companies being able to pick up production after the original patent expires in July 2023. This can increase the amount of the medicine available, make it cheaper, and get it to more people," she said. Lawyers Collective, an India-based non-governmental organization, supported the process of filing the opposition. 
According to Cherian, even if Janssen chooses to appeal, companies producing generic medicines will now have a good grounding for beginning production to the benefit of all. "The decision is not important for people in India alone, but also in the rest of the world, since it should pave the way for export of generics," she said.
Patients oppose evergreening attempt
Janssen, owned by multinational Johnson and Johnson, applied for an extension of their original patent on bedaquiline on the basis of having discovered a new formulation. According to Indian law, in order to be granted a patent extension in such a situation, the manufacturer has to show that the new formulation leads to an enhanced therapeutic effect. Janssen repeatedly failed to prove that in the case of bedaquiline salt formulation.
The company's extension application has been opposed since 2013, when the Network of Maharashtra People Living with HIV (NMP+) submitted a petition against it. Six years later, Nandita Venkatesan and Phumeza Tisile filed another appeal arguing that what the company was trying to do was actually the evergreening of the existing patent. Evergreening is common practice among pharmaceutical companies, which they use to hold on to monopoly production of medicines which are neither new nor improved, but are good at guaranteeing profits. 
If the patent on bedaquiline had been extended, public and family budgets would have remained burdened by unjustifiable high costs of the drug. Bedaquiline is an important drug for TB patients on many counts. The older TB drugs include injectables such as kanamycin, which have severe side effects including permanent hearing loss. On the other hand, bedaquiline is an oral drug with much higher safety and efficacy profile.  
In addition to bringing obvious benefits for tuberculosis patients, the decision is also relevant as it indicates that the Patent Office is keeping in line with relevant provisions of the Patents' Act.
"It was heartening to see that the Patent Office recognized that this petition had to be considered in relation to Section 3(d) of the Indian Patents Act. The same goes for the level of detail we have seen in the decision, which jumps out in comparison to other decisions of this sort. It shows that there's a will to prevent pharmaceutical companies from skidding through this kind of process, overlooking people's concerns," said Cherian.
She added, "The Indian Patents Act gives everyone the right to raise an objection against an application that they think will be harmful. They don't have to be health experts, scientists, or lawyers to do that. That means that different parts of the movement work together on fighting for public interest, which helps us build community and balance."
Profits, not TB research, are the goal of pharmaceutical companies
The new ruling is also relevant given India's high tuberculosis burden. According to the most recent Global Tuberculosis Report, in 2021, the country recorded 119,000 cases of multidrug resistant tuberculosis and over half a million of deaths caused by the disease. In this context, supporting generic production of effective tuberculosis drugs becomes an imperative.
Bedaquiline was the first new tuberculosis drug in half a century when it was discovered in 2012. Widely recognized as a disease of the poor, tuberculosis is generally not an interesting field in Big Pharma research and development, although it marks the lives of hundreds of thousands of people in the Global South.
Global Reports for both 2020 and 2022 highlighted major setbacks where United Nations (UN) targets on funding tuberculosis research is concerned. In 2021, the global amount invested in this field was not even half of what a UN High Level Meeting identified as a target.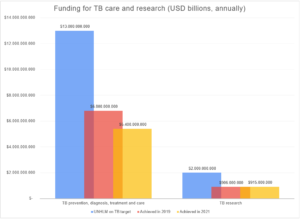 People's Health Dispatch is a fortnightly bulletin published by the People's Health Movement and Peoples Dispatch. For more articles and to subscribe to People's Health Dispatch, click here.