Hundreds of people protested on Monday September 4 outside the venue which will host the Defence and Security Equipment International (DSEI) arms fair in London. The protesters, from the War on Want and other organizations, demanded an end to the sale of weapons to Israel, due to its occupation of Palestine and other grave crimes. 
The DSEI fair, scheduled to begin next Tuesday September 10, is backed by the United Kingdom government. The arms fair, which is organized every two years, has witnessed the presence of military delegations from several countries that have been accused of war crimes. 
On Monday, the protesters attempted to peacefully block the movement of weapons into the venue at the ExCel Centre, with banners reading 'Stop Arming Israel' and the police used force to disperse them, they were seen grabbing and pushing the demonstrators to the sides of the road.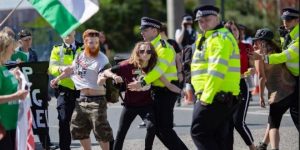 The executive director of War on Want, Asad Rehman, said that the British government is "rolling out the red carpet for human rights violating regimes to buy the weapons of death."
"We no longer need empty words or crocodile tears, the government has to act, and the government has to shut down this arms fair and shut down this immoral trade," he added.
The UK is complicit in war crimes

According to the Campaign Against the Arms Trade (CAAT) the British government approved the sale of weapons and military equipment worth USD 17.8 million to Israel in 2018. On May 18 last year, just four days after Israeli forces massacred 68 Palestinians during the Great March of Return protests in Gaza, a deal for the sale of military training equipment worth USD 125,000 was approved. 
In 2017, the British government had issued arms export licenses worth USD 294 million to defense contractors exporting military equipment to Israel, representing a staggering increase of 256% compared to the previous year ($114 million).
A recent United Nations report noted that the UK, the United States and France may be complicit in war crimes in Yemen, by providing logistical and intelligence support to the Saudi Arabia-led coalition. The report states that it has found potential evidence of the role played by these countries in assisting the coalition's war tactics in Yemen, which include the indiscriminate bombing of civilian infrastructure and starving the people.