The United Nations General Assembly (UNGA) voted to suspend Russia's membership from the Human Rights Council on Thursday, April 7. The resolution was adopted on the first day of the resumed special emergency session on the war in Ukraine which was called last month following the Russian aggression against the country.
The resolution titled "suspension of the rights of membership of the Russian Federation in the Human Rights Council" was sponsored by the US. It received 93 votes in favor and 24 votes against in the 193 member assembly. 58 countries abstained. The resolution was supported mostly by Europe and the Americas. China, Cuba, Belarus, Iran and most of the central Asian countries voted against the resolution. Most of the South and West Asian countries abstained from voting. 18 countries including Venezuela did not participate in the vote.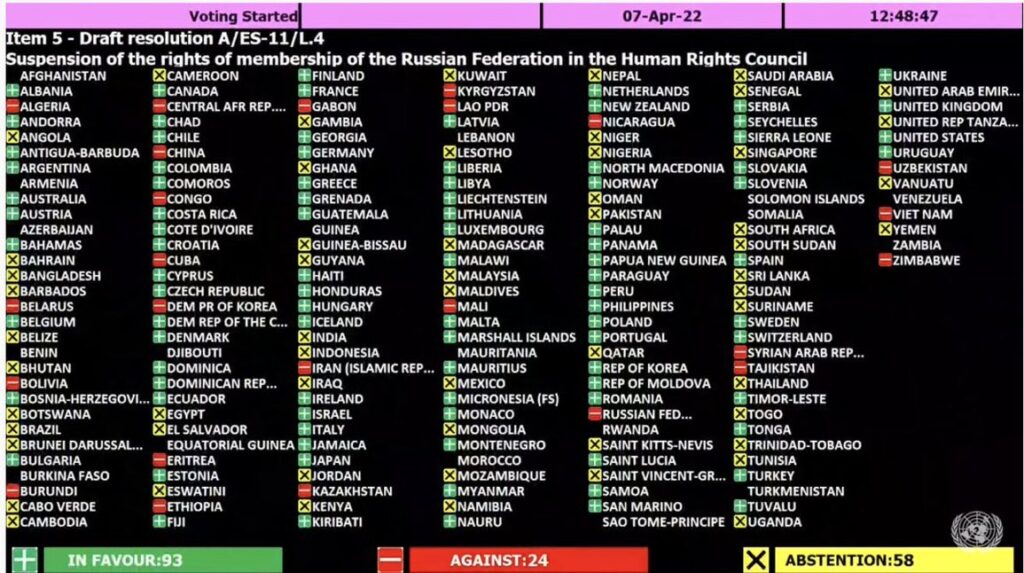 The resolution expressed "grave concern" at the "human rights and humanitarian crisis in Ukraine". Appealing to countries to vote for the resolution, Ukrainian representative Sergiy Kyslytsa tried to link the killings in Bucha with Russian forces.
This is just the second time in the history of the Human Rights Council that a member is suspended. In 2011, Libya was suspended when it was accused of violence against protesters during the so-called Arab spring protests.
Following the passing of the resolution Russia announced that it is quitting the council. Reacting to the vote Russia's foreign ministry said in a statement that it "considers the resolution adopted by the UN General Assembly on April 7 in New York to suspend the membership of the Russian Federation in the UN human rights council as an unlawful and politically motivated step in order to definitely punish a sovereign UN member state that pursues an independent domestic and foreign policy".
After its atrocities in Iraq, Afghanistan, and countless other countries (not to mention its support for the Saudi-led war on Yemen and Israeli occupation and apartheid), the US has no place on the UN Human Rights Council either. https://t.co/C6Hbq9c5rN

— CODEPINK (@codepink) April 8, 2022
Russia has already denied its involvement in the Bucha killings and demanded independent international enquiry. Chinese representative in the UN Zhang Jun pointed out that the resolution was brought without consulting all the members of the assembly and called it a "hasty move" which sets a "dangerous precedent" which "will aggravate the division among member states and intensify the contradictions between the parties concerned."
Russia had joined the 47 member council in January 2021 for three years' term after getting elected by the General Assembly.