Lee en español aquí
"They have broken the silence! That is the hardest and bravest step!"
"The day these women emerge victorious, thousands more will gain the courage to break the silence!"
"The BJP government gives the slogan that they will save and protect our daughters. Today we have changed the slogan. Our new slogan is, 'Save our daughters from the goons of BJP!'"
Putting their lives on hold and their careers at stake, some of India's top women wrestlers have been sitting in protest for over a month in the heart of India's capital city, New Delhi, at the protest site Jantar Mantar. Everyday, hundreds of citizens from various organizations — women, students, farmers, and more — as well as individuals join them in solidarity.
In an unprecedented act of resistance, these internationally recognized athletes, including Olympic and Commonwealth Game medal winners, have spoken up against the culture of impunity in Indian sporting federations. They have accused the president of the Wrestling Federation of India (WFI) Brij Bhushan Sharan Singh and other officials of sexual misconduct. Brij Bhushan is facing allegations of sexually harassing and molesting seven women wrestlers, including one minor. He is also a member of parliament from the ruling far-right Bharatiya Janata Party (BJP).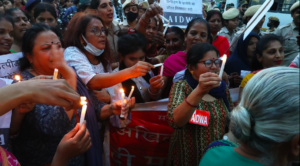 Thousands across the country are supporting the wrestlers in their fight for justice. On May 23, candlelight marches were held in different cities. In New Delhi, the wrestlers led nearly 2,000 people in a march to the iconic India Gate monument and lit candles there. They were joined by various organizations, including the All India Democratic Women's Organization, the Students Federation of India, the Bharatiya Kisan Union (Indian Farmers' Union), and more.
However, despite the grave nature of the allegations, growing demands for legal action from all corners of the country are falling on deaf ears as the BJP government continues to remain silent.
The movement so far
"Our fight for justice is a month old yet it feels like we have been at Jantar Mantar for a year. Not because we have been sleeping on a footpath in the heat, getting bitten by mosquitoes, having stray dogs for company once dusk falls or don't have access to a clean toilet at night. Our fight for justice seems like it has been on forever because the wheels of justice have moved very slowly," wrote Vinesh Phogat, one of the wrestlers leading the protest action, in an opinion column in The Indian Express. 
Phogat, along with Bajrang Punia and Sakshi Malik, first began protesting at Jantar Mantar in January of this year. At the time, the Indian Olympic Association took note of the allegations and formed an oversight committee to look into the matter. However, three months later, the committee refused to make their findings public, causing the wrestlers to resume their protest on April 23.
Seven wrestlers, including one minor, filed complaints of sexual misconduct against Brij Bhushan with the Delhi police. But the police failed to register those complaints. It was only after the complainants approached the Supreme Court and the apex court directed the Delhi police to take action that further steps were taken.
Brij Bhushan is now facing charges under the Protection of Children from Sexual Offences (POCSO) Act, 2012 and under provisions regarding outraging the modesty of women. Under these serious charges, Brij Bhushan should have been arrested and produced before a magistrate immediately. Yet he continues to walk free and even makes open threats against the wrestlers, going so far as to say that he will not let these women compete in the Olympics.
"The only fear we have is that we may have to quit wrestling. We believe we have five years more in the sport but who knows what the future holds for us after these protests. We also know our lives could be at risk because we have taken on not only Brij Bhushan but other powerful forces, too, but I don't fear death," wrote Phogat.
The situation of Indian sportswomen 
"In recent times, there have been assaults on sportswomen at different levels. The extent of the assaults is such that even Olympian wrestlers who are medal winners have not been spared. It means there are no safety and security measures in place in the federations and associations of sports in India," Jagmati Sangwan told Peoples Dispatch during the candlelight march in Delhi. Sangwan is the vice-president of the All India Democratic Women's Association and a former international volleyball player.
Sangwan further explained, "What is coming out in India through these Olympians who have raised their voice is just the tip of the iceberg. At the lower levels there are so many cases of sexual assault and exploitation. Because the players are fearful of the cost of speaking out and raising their voice they are forced to keep mum."
Sangwan, Vinesh Phogat, and Sakshi Malik hail from the State of Haryana. The State has a thriving culture of encouraging women to enter sports and play at the national and international level.
"When these girls win medals in Olympics and international competitions, many more girls from rural areas, poor families look forward to a career in sports. But if there are no safety measures and women athletes end up suffering, the coming generations of young girls lose hope of fulfilling their dreams," Sangwan said.
What's next for the movement?
On May 28, Indian Prime Minister Narendra Modi is all set to inaugurate the new parliament building. The wrestlers' movement has decided to hold their own women's parliament outside this new building on the same day, and demand that the government stop shielding sexual offenders.
"Wherever women are raising their voice against sexual assault and violence, they are not getting justice. The government and its agencies are protecting the criminals. It happened in Haryana where the sports minister Sandeep Singh assaulted a very well known athlete. We raised our voices constantly for three months. He was forced to step down as sports minister but continues to remain in the state cabinet shielded by Haryana's BJP government," Sangwan said.
Over half of the national sports federations don't have sexual harassment panels or any such mechanism for players to register their grievances. The movement has prompted the Supreme Court to instruct all ministries and departments to constitute such bodies in an urgent manner, including in all sports federations. If this is followed in a lawful manner, it will enable a check on sexual violence against sportswomen and pave the way for a women friendly, gender responsive sports policy to be implemented in the country.