"In a decaying society, art, if it is truthful, must also reflect decay," wrote Marxist art historian Ernst Fischer seven decades ago, "Art must show the world as changeable. And help to change it."
The future of the world hangs in the balance. The coronavirus pandemic has deepened existing inequalities and issues while presenting unforeseen challenges to crumbling public infrastructure in many countries. This historic moment has revealed that there are two dominant paradigms, one that favors life and the well-being of the people, and one that favors capital and accumulation.
The corona-crisis has revealed the lengths to which the capitalist system under the imperialist and neoliberal order will go in order to preserve itself and protect its own, even if it means sacrificing generations, communities and leaving people hungry and on the street. The contradictions of this model have become impossible to ignore, and humanity's need to understand and change this reality is even greater.
It is in this context that the Tricontinental Institute for Social Research and the International Week of Anti-Imperialist Struggle invited artists and militants from across the world to participate in the first Anti-Imperialist Poster Exhibition in a search for new visual expressions for the realities we are living in. This first cycle was on the theme of "Capitalism", and the task was to visually interpret the concept.
One of the curators of the exhibition and lead designer from Tricontinental: Institute for Social Research, Tings Chak, said, "This was a call to artists to join in the struggle of hundreds of people's movements around the world. We invited artists to visualize the capitalist system in decline and also paint possibilities of an anti-imperialist future."
The response from artists, movements and organizations across the world was overwhelming. 77 artists from 26 countries and 21 organizations, predominantly from the Global South, submitted their work. In the series, one can find glimpses not only of a dying capitalist system, but also the flickers of a new world that the people's struggles across the world are ushering in. The images in their diverse styles and languages clarify rather than mystify the conflicts of our time.
Some of the artists reflected on their work and what motivated them to take part in this exhibition in solidarity with anti-imperialist struggles.
Judy Seidman, a revolutionary artist from South Africa and former member of the historic Medu Arts Ensemble, shared her reflections on the call for participation in the exhibition. When the lockdown was imposed due to COVID-19 pandemic, Seidman was compelled to revisit her decisions about art. "I think it's important to have this kind of call to artists in support of people's struggles at this particular moment. We are confronted with a global crisis that needs a global response. We as artists need not just to think through our own work, but we also have to find ways to re-consider how we work with others, how what we envision in our work can speak to people's needs and people's struggles," Seidman added. Her poster is titled, 'Capitalism Kills But We Shall Rise.'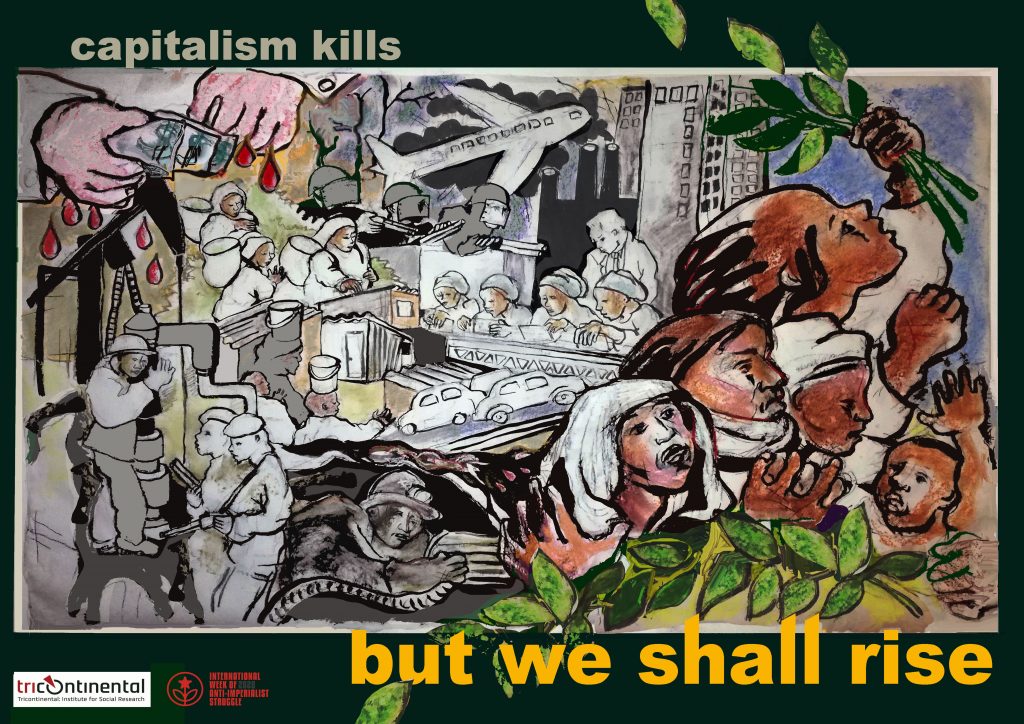 A self-taught artist from India, Ramchandran Viswanath is a 72-year-old is a former employee of an automobile factory. Ramchandran Viswanath says that he has been a Left sympathizer since his school days and that motivated him to send two posters. One of them is titled, 'Time is running out for Earth as we have known and lived on so far.' He hints that capitalism is the reason.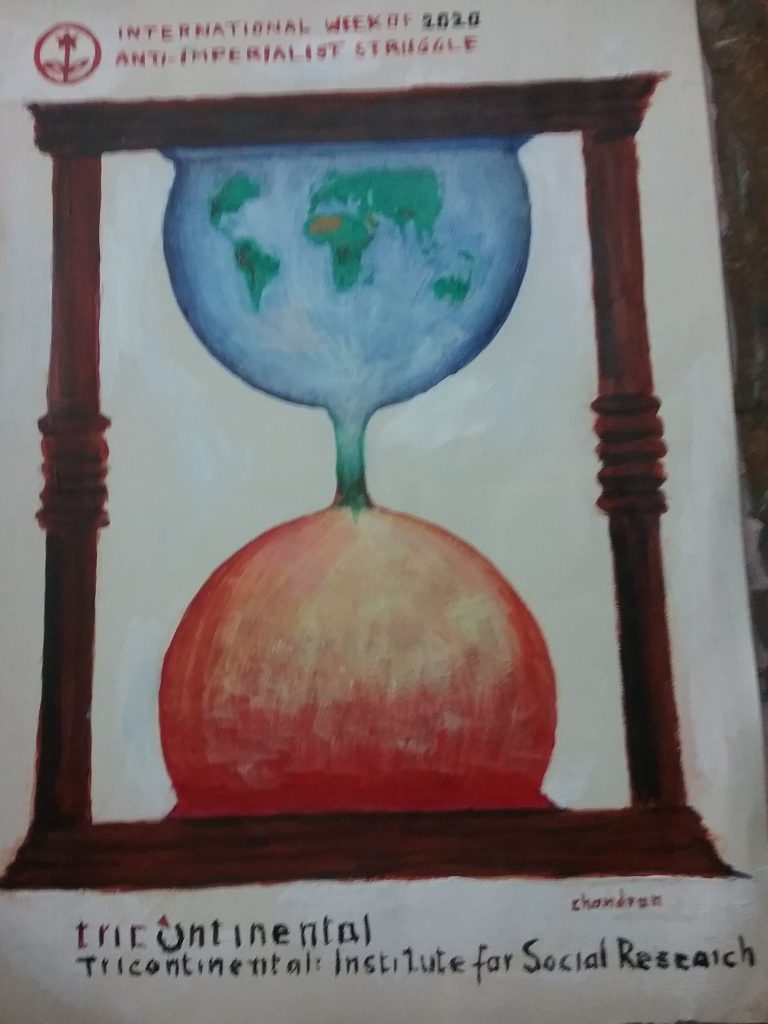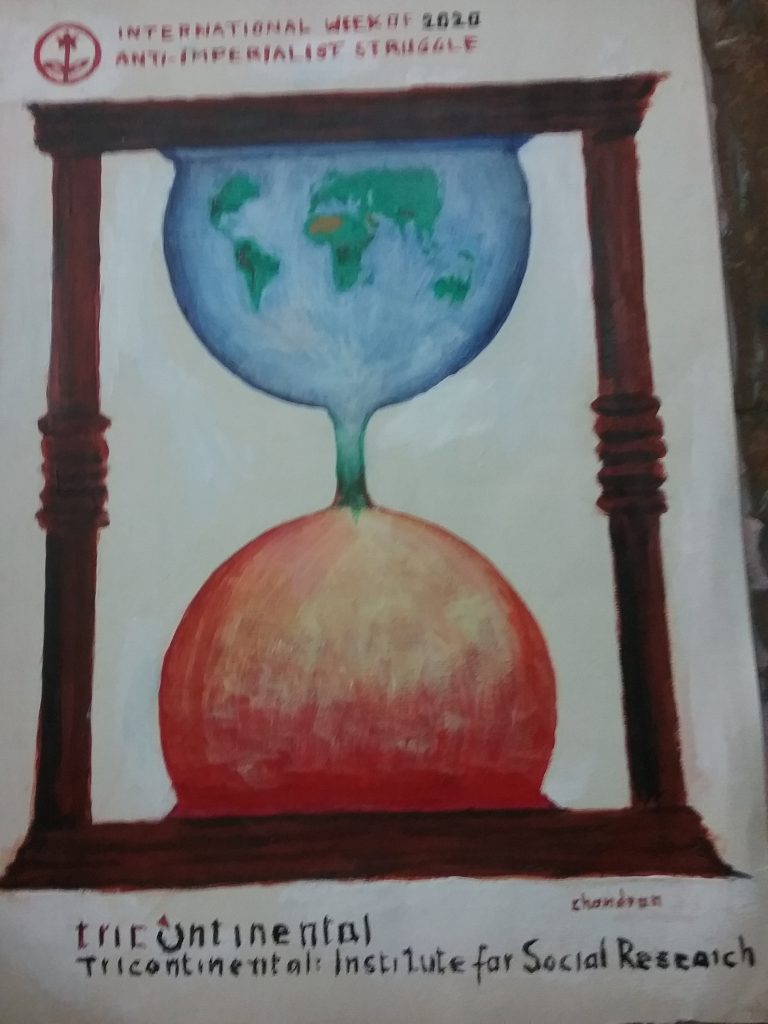 A poster with flames emerging from a Coca Cola bottle has been submitted by Ahmed Mofeed from Palestine. This image is inspired by an article by Sherine Seikali titled "The number of calories and the industry of lemonade in Gaza." It talks about how the food is rationed and supplied based on calories per person. The burning bottle, Mofeed adds, is to "express resistance that cannot be calculated in calories."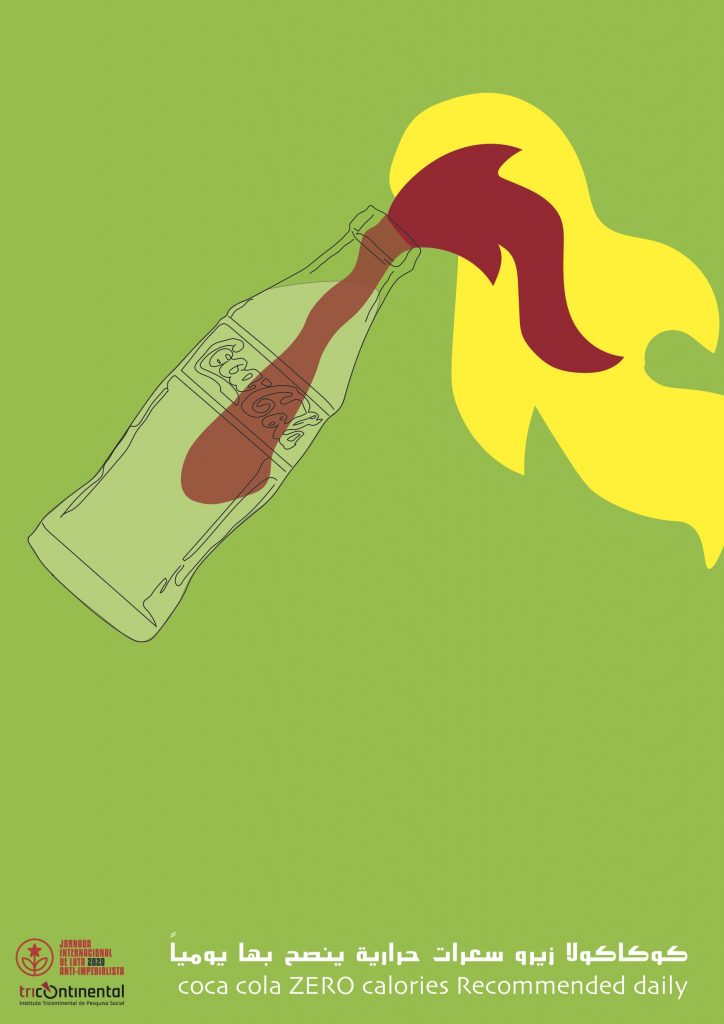 There are numerous posters that make you think. These posters, one at a time, engage the viewer in a dialectical process and contextualize the realities that surround the viewer in the physical world.
Artists who are on the side of the struggling people and movements are what Gramsci called the "new intellectuals". Tricontinental's dossier summarizes the role of these "new intellectuals." "They play the role of a 'permanent persuader' devoted to working to alleviate the grievances of the people, to elaborate popular consciousness, to push the suffocating narrowness of thought outwards and make more and more space for popular struggles to sustain themselves and win."
"Capitalism" opens as an online exhibition on 11 June and will be followed by three more cycles of the Anti-Imperialist Poster Exhibition, themed around Neoliberalism, Hybrid War, and Imperialism.